You Can Help Save a Life
We are especially touched and honored by the generosity of those who help the horses – children collecting donations at their birthday parties, service groups designating their fundraising projects to our charity, individuals creating special benefit events – they are all role models for others and truly make a difference in the welfare of our rescues.
Give a gift of stock, mutual funds, or other securities
Giving assets such as securities is often a simple way to make a sizable gift to the South Florida SPCA while potentially avoiding capital gain and other taxes.
When donating securities held through your brokerage account directly to the South Florida SPCA, you can maximize your donation and eliminate capital gains tax on appreciated assets held for greater than one year.
Specifically, when you donate securities directly, you receive the fair market value of the assets as the donation amount, instead of donating proceeds after a sale in your brokerage account, which may be subject to capital gains tax.
For tax planning purposes, if your securities are depreciated, or have a fair market value that is lower than your cost, it may be to your advantage to sell these securities within your brokerage account before donating to the South Florida SPCA, so that you can benefit from any capital losses. Any information on this website is not intended to be legal, tax, or financial advice, or apply to every tax situation. Please consult with your legal, tax, and financial advisors for advice that is specific to your needs.
Another option for being a monthly donor is to join us on Patreon. Follow the journey of the South Florida SPCA rescue animals on a more intimate and in depth basis. With a paid monthly subscription, at a cost of your choice, you can feel more closely involved in the work your donations are making happen. Click here to go directly to our Patreon account. Enjoy the journey, and on behalf of the horses and livestock we serve, thank you for the blessings of your donations.
Monthly Giving
When you become a Monthly Donor to the SFSPCA, you are like the hooves on the horses, and you know what they say about horse hooves "no feet no horse." Hooves are the part that holds up the entire rest of the horse.
Monthly donors are very important to us because monthly donations of any size, all together add up to big things. The beauty in monthly giving is:
More of your donations goes directly to our mission, since there are fewer admins costs to cover.
You avoid the hassle of re-entering your details every time you make a donation.
You contribute to the longevity of the organization by giving us regular support.
Continued monthly donations help us plan a more solid budget.
You get to see a long-term impact in the projects you donate to.
You become part of a special community of regular donors.
We make sure it is easy to edit or cancel a donation subscription.
Bricks for Rescues
Memorialize or Honor a Beloved with a Brick
When you buy a brick, you're not just honoring or memorializing a beloved, but also making a donation toward a better life for our rescues.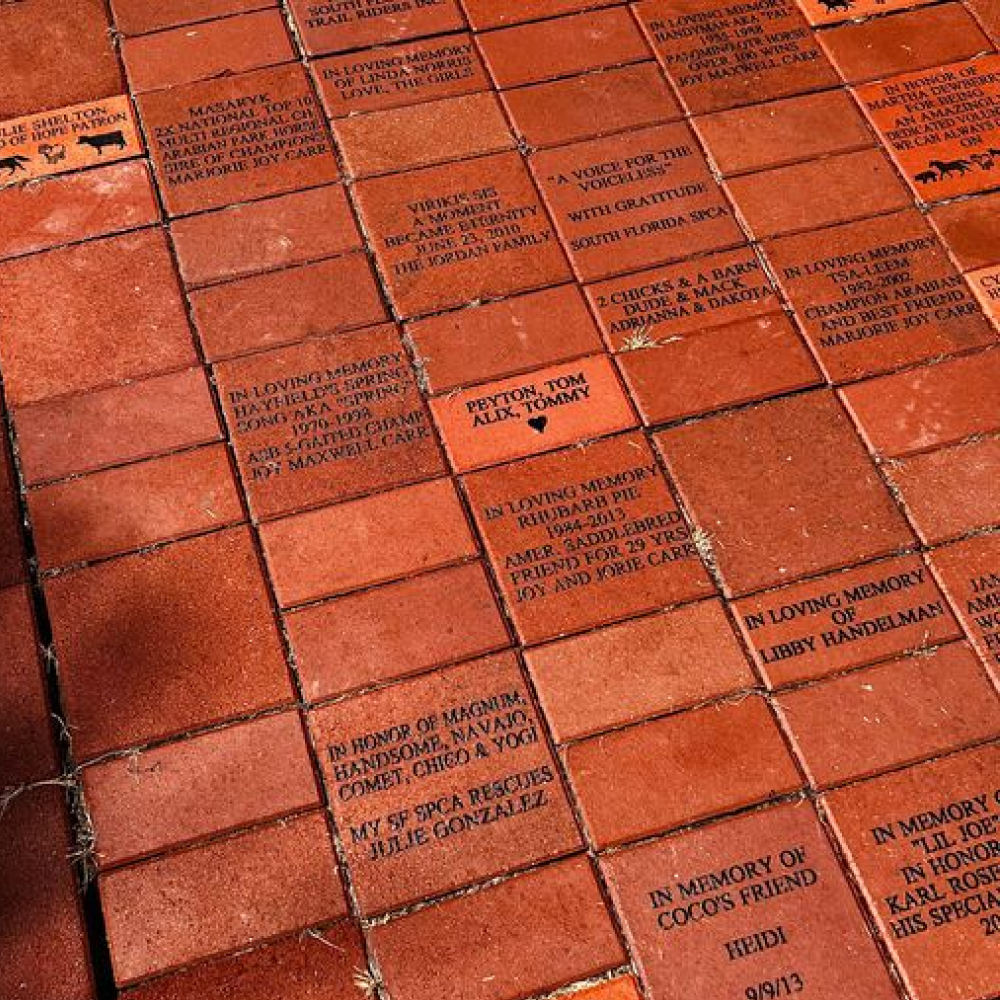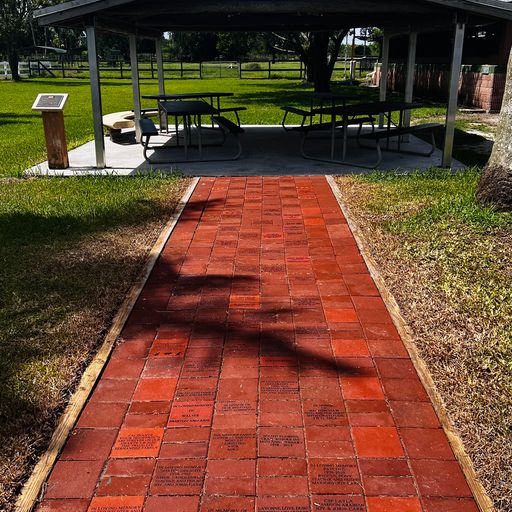 You can honor or memorialize a beloved animal or human with a custom engraved brick. Your personalized, engraved brick will become a permanent part of our Memorial Walkway.  Our walkway represents our collective journey towards a world where horses and all animals are treated with the dignity, love, and respect they deserve.
A brick can be a beautiful way to honor someone special! They can be a tribute to someone dear, a unique gift, a heartfelt memorial, or a permanent tribute to your personal commitment to animal welfare!
Our "BRICKS FOR RESCUES" project invites you to become part of a community dedicated to animal welfare and positive change. Buy a brick, build a future, and leave a legacy of love.
Follow these steps to donate a brick:
Step #1 Fill out the brick order form
Step #2 Send the completed order form to michelle@helpthehorses.org
Step #3 Make A Donation to submit payment for your brick (pricing displayed on order form)
Major Gifts
"The most useful and influential people in America are those who take the deepest interest in institutions that exist for the purpose of making the world better."
Our major gift donors are the Unicorns of our Herd of Hope. At the SFSPCA, major gifts are donations that exceed $2,500.00  A major gift often allows for major purchases, significant facility repairs and large rescue operations to have adequate funding to provide for them. Major gifts can also be hugely helpful in reducing our feed bill, one of our largest expenses. These gifts can be direct donations, large sponsorships, Family Trust disbursements as well as bequeaths to the SFSPCA in memory of a lost animal lover.
Our Executive Director, Christine Septer happy to meet with you to discuss becoming a major gift donor. It would be our pleasure to tailor an expression of our appreciation to your request. We extend the invitation to all our major gift donors and their families or friends to have a Rescue Ranch Tour scheduled at their convenience.
Patreon
Join the South Florida SPCA on their journey rescuing, rehabilitating and rehoming the horses and livestock of the rescue ranch.
With your patronage through Patreon the SFSPCA brings you virtually into the inner workings, the behind the scenes, the rescue operations, the transformations, the ahhhh's and celebrations of rescuing horses and livestock. You will have special exclusive access to our world.
Join us now for as little as $5.00 a month and be a part of all that goes on with the animals of the SFSPCA, while assisting in their support.
Corporate Giving
The South Florida SPCA offers various options for Businesses to support a meaningful cause such as our organization.
Securing naming rights at our facilities, or sponsoring one of our events are a couple of possibilities.  Companies can also encourage employees to take advantage of matching gifts to the SFSPCA, or to participate in an employer giving program, or to fundraise on our behalf.  As an organization we are open to partnering with businesses to create productive collaborative relationships.
At the South Florida SPCA, we understand that benefits are only relevant when they meet corporate needs and personal preferences. To this end, we prefer to meet with our generous donors to create a recognition program that has lasting effects and provides business value and personal pride.
Does your business accept credit cards? Do you use Merchant Services? Then consider a cost evaluation from Adam Weizer at Service Tree and see if you can save money while generating donations for the South Florida SPCA. Servistree Merchant Services works with South Florida SPCA to help raise funds to support their mission.
Ultimately Servistree, is a relationship based company and our goal is to provide the best service and most competitive credit card processing rates to our clients. We believe in providing our partners and their members with the highest quality merchant services at the lowest possible cost. We donate back a portion of OUR profits on every account we acquire from our marketing partnership with South Florida SPCA. We do not require a contract and do not charge cancellation fees.
There is NO Risk, NO Hidden Fees and it's simple to get started.
Call us at 866-944-3244 or visit www.servistree.com
Cars, Boats & ATVs
The Vehicle Donation Process
Donating your car, truck, van, SUV, boat, motorcycle, ATV, RV, trailer or airplane has never been easier! Just call 855-500-7433. Give us a call, and our trained staff will guide you through the donation process.
Schedule the Vehicle Pick up
In some areas, we will have the ability to schedule the vehicle for pick up during your initial call. In all other cases CARS will contact you within 2-3 business days to set a convenient appointment time for pick up. If you need your vehicle picked up sooner, please call us toll-free at 855-500-RIDE (855-500-7433) as we may be able to make those arrangements. The vehicle will be picked up by a licensed tow company at no cost to you and will be taken to our sale location. You will be provided a Donation Receipt by the tow driver at the time of pick up.
The Donated Vehicle is Sold
We have sales locations where we evaluate each vehicle. When it is cost-effective, we make major and/or minor mechanical repairs. We use auction houses to sell the majority of our vehicles. On occasion we may receive a unique or specialty item for which we may use other means to sell the vehicle. Our goal is to ensure that the charity/nonprofit organization receives the maximum amount of money for each vehicle donation that they receive.
We Provide All Necessary Tax Deduction Receipts and Forms
Within 30 days of the sale of the donated vehicle, you will receive a thank you letter which you may use as a tax receipt. This may be your only receipt if your vehicle sells for $500 or less. If your donated vehicle sells for more than $500, we will mail you an additional receipt known as "IRS Form 1098-C, Contributions of Motor Vehicles, Boats, and Airplanes" if your tax identification number has been provided.
IMPORTANT: In accordance with Chapter 496.411, Florida Statutes, the Solicitations of Contributions Act, the following information is provided: Charity Name/Location: South Florida SPCA Society For The Prevention Of Cruelty to Animals, Inc./Homestead, FL; Florida Charity Registration #: CH9651. EIN: 65-0338657.
A COPY OF THE OFFICIAL REGISTRATION AND FINANCIAL INFORMATION MAY BE OBTAINED FROM THE DIVISION OF CONSUMER SERVICES BY CALLING TOLL-FREE 1-800-435-7352 WITHIN THE STATE OR OUTSIDE FLORIDA AT 850-410-3800. REGISTRATION DOES NOT IMPLY ENDORSEMENT, APPROVAL, OR RECOMMENDATION BY THE STATE.  Also see: www.FloridaConsumerHelp.com.