MIAMI, FL (Dec. 9, 2013)  A chance meeting last summer between two passionate teachers, both horse lovers, led to the planning of an amazing event for visually-impaired children.
South Florida SPCA's Educational Outreach Coordinator, Susie Martell, and Yubeda Miah, Principal at Tropical Elementary School, immediately began work planning a visit to the rescue ranch for these special children.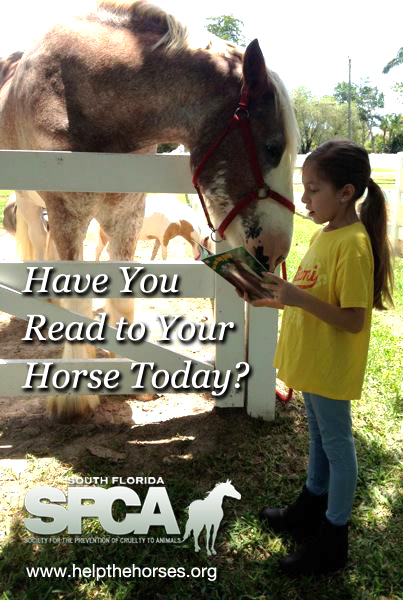 On December 14, at 10:00 a.m., a dozen visually-challenged children from Miami's Tropical Elementary School, accompanied by their parents and teachers, will arrive at the South Florida SPCA ranch to read to the horses…in BRAILLE!  In addition to reading to the rescues, the children will be exploring the world of horses using their other senses to feel, touch and smell.
According to Yubeda Miah, principal at Tropical Elementary, "The children have been preparing for their visit for months.  They've done a whole unit on horses, farms, caring for animals and gathering goodies to give as a "thank you" to the horses for allowing them to come to the rescue ranch."
"Frankly, I don't know who is more excited," added Susie Martell, "me or the children.  This event will combine my passion for horses as well as my passion for teaching. It is truly a win-win experience for all involved."
Among the horses that the children will read to will be Jackie, who has only one eye, and Topper, a gentle giant who loves children to read to him.
Founded in 1992, the South Florida Society for the Prevention of Cruelty to Animals is a 501c3 non-profit.  It is one of the five largest, continuously operating horse and large animal rescues in the United States.
Media Contacts:
Jeanette Jordan, SFSPCA:  (305) 987-1802
Susie Martell, SFSPCA Educational Outreach Coordinator:  (305) 505-9582
Yubeda Miah, Principal, Tropical Elementary School:  (305) 333-2535