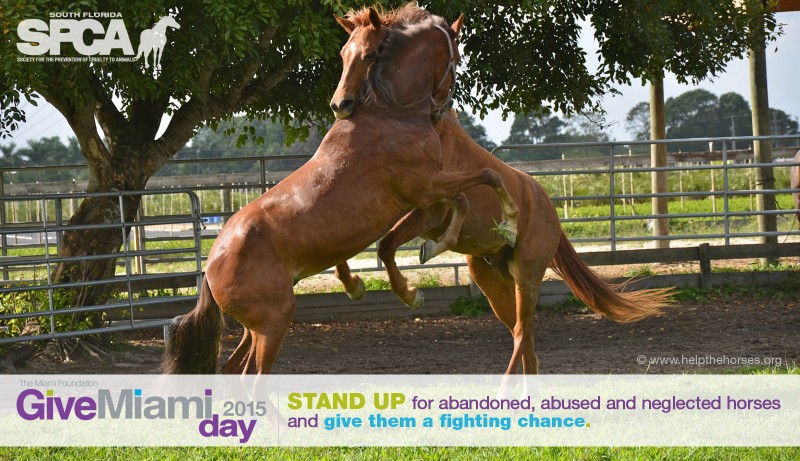 By Kathleen Monahan
President, South Florida SPCA
"Stand up for abandoned, abused and neglected horses and give them a fighting chance." There's grit behind this year's South Florida SPCA Give Miami Day Campaign. Just look at the photo: two magnificent horses restored to health, rearing up on hind legs, specks of sunlight glittering off their massive rippling muscles. They fought their way back. And they made it.
At SFSPCA, we fight every day for these magnificent creatures. We rescue them from horrific conditions, nurse them back to health, and find loving forever homes. On top of that, we seek justice in the courtroom.
A number of recent headlines have frustrated and upset animal advocates. We see horrific acts of abuse by offenders and can't understand why the punishment doesn't seem to fit the crime. Our supporters rage at the injustice. Florida stinks! Animal abuse laws are a crock! Another pathetic slap on the wrist!
Well, I'm going to let you in on a little secret: Without SFSPCA, it would be a whole lot worse. Without SFSPCA, many horse abusers would walk completely. SFSPCA members put in tons of volunteer hours — taking photos, gathering evidence, giving statements, meeting with prosecutors, showing up in court along with the police officers, over and over. The abusers and their attorneys try to wear us down. We're supposed to tire of it. We're supposed to give up so that we stop showing up, increasing the chance that the case is dismissed outright. It's frustrating and exhausting, but…
It doesn't work. We keep showing up. We continue to fight. We even formed a Legal Task Force to help state and county attorneys win these cases. And I'll let you in on another secret: State and county attorneys want justice for the horses, too. Sometimes the law needs changing. Someone who has abused multiple horses should receive a lifetime ban on ownership! We're working on that, too.
And we're making lots of progress. SFSPCA is sending a message to the abusers that we will seek justice, maximum penalties and lifetime bans on horse ownership.
But, what about you? Will you stand up for the horses? They don't have a fighting chance without SFSPCA and we don't have a fighting chance without you!
Please give on Give Miami Day. Or become a SFSPCA Member. Or make a general donation. Don't watch from the sidelines when you can join the fight.
---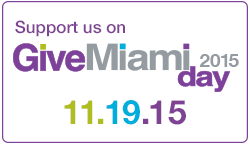 READY, SET, GIVE!
Give Miami Day Starts at Midnight Tonight!
STAND UP for abused and abandoned horses during Give Miami Day! From 12:00am to 11:59pm on Thursday, November 19 EST, The Miami Foundation and its partners will provide a percentage match to contributions between $25 and $10,000 made through the Give Miami Day website. You're not just donating, you're making a difference, and exponentially leveraging your gift! Click the Give Miami Day logo for our donation page!
(Note: Donations will begin being accepted on November 19, 2015 12:00 AM EST.)