We promise them safety.
We promise to do everything we can to keep them healthy.
But when the inevitable storms strike throughout the summer and hurricane season, it threatens our ability to keep those promises to our rescued horses and animals. We lose power, and as a result the horses' automatic water supply stops in the stalls, paddocks and pastures, the cooling fans quit and the barn and property lights go out. Even the power to our water pump dies. The heat here is brutal, making their water and stall fans even more critical to their well-being. And the lights are so important for the safety of our staff and volunteers as they care for our herd.
Last September, we were without power for three days and nights during, and in the aftermath, of Hurricane Irma. The difficulties we faced are something we never want to experience again.
So, what's the solution? While we can't control the weather, we can control our ability to keep our herd of 50-plus horses and animals safe, healthy and hydrated with a generator.
A trusted local company has outlined what powering our ranch requires. We're calling it the SEXY BEAST because it's very large and requires specialized, permanent installation. The total cost estimate is $8,000. The horses, rescued from abuse and abandonment, deserve it.
Help us keep our promise of safety and health to SFSPCA's horses and animals with a tax-deductible contribution today.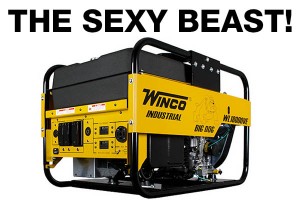 To donate to our generator fund online, please click one of the buttons below (if choosing PayPal, please note it's for the generator). On behalf of all the rescues, thank you for your support.
You may also mail a check to:
South Florida SPCA
P.O. Box 924088
Homestead, FL 33092