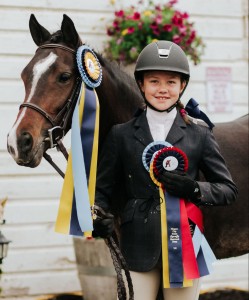 On a rainy weekend in Ontario last May, not even the overcast skies and sloppy mud could dull the shine of a flashy bay pony and her talented young rider, in the show ring for the first time together at the Niagara Cup Series at Sherwood Farm. With ears pricked and eyes bright, the green pony took each jump knees-to-nose, her expression clearly showing that she absolutely loved this new job of hers. From class to class, spectators couldn't help marveling at the duo, nor could the judges.
At the end of the day, Amazing Grace and Abby Banis were awarded several ribbons, including Reserve Champion, Pony Hunter.
Impressive for any horse's first show. But, a miracle for this one.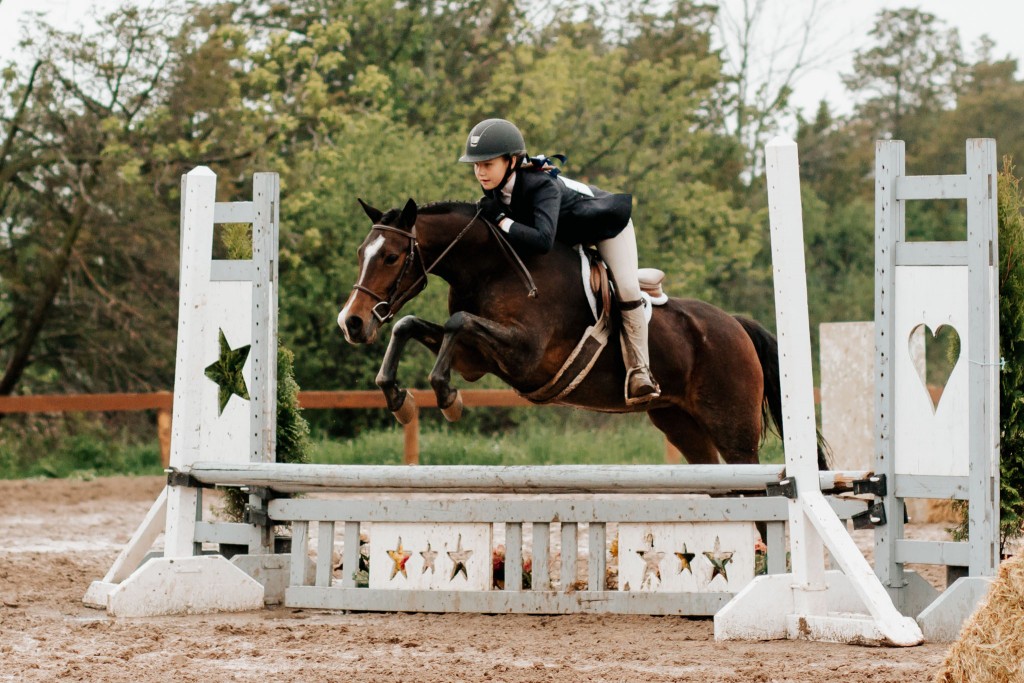 ABOVE: "Miracle Pony" Amazing Grace and Abby Banis at Niagara Cup Series Show at Sherwood Farm on May 21, 2017. Photos © Rachel Sulman Photography.
From Dying in the Dirt to Living the Dream
On December 30, 2015, South Florida SPCA Horse Rescue staff and volunteers rushed to the scene of reported animal cruelty at a ramshackle boarding facility in Miami Gardens, Florida, where they found four emaciated horses being kept in absolute squalor. And then they spotted a young pony, down to skin and bone, sprawled in the dirt. She struggled to get up but had lost too much muscle, lacking the strength to stand. Her body was shutting down, and she was dying.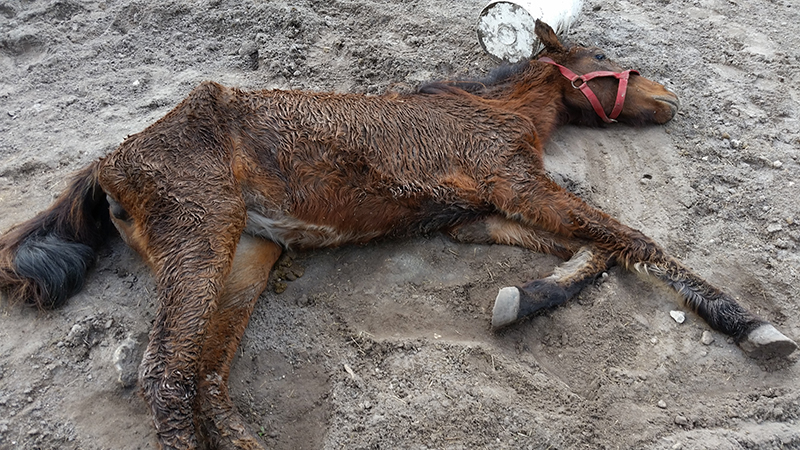 Amazing Grace as she was discovered on 12/30/15. Photo: © South Florida SPCA Horse Rescue.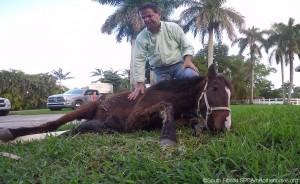 With no time to lose, SFSPCA raced against the clock to get the emaciated pony and the other horses to its ranch. She had to be carried on and off the trailer, but once on the soft ground she began devouring mouthfuls of grass, showing her strong will to live. It was then she was named Amazing Grace.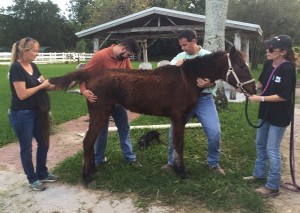 With a lot of effort, she was brought to her feet and led to a stall for care and comfort. She made it through the first night, but after two days Grace still didn't have the strength to stand unassisted, and symptoms indicated possible kidney failure. She thrashed in her stall causing further injuries, which was heartbreaking.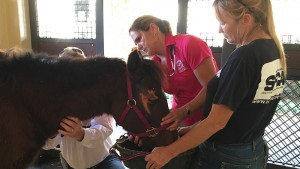 Her needs exceeded what could be provided at the SFSPCA ranch, so on New Year's Day she was taken to Palm Beach Equine Clinic in Wellington, Florida. The incredible veterinarians and staff rallied around her, and after a week of intensive care, she was healthy enough to return to SFSPCA.
Grace thrived slowly but surely with the dedication of SFPCA staff and volunteers. Her recovery took months with many uncertain moments, but finally she regained her weight, and became strong, confident, and beautiful.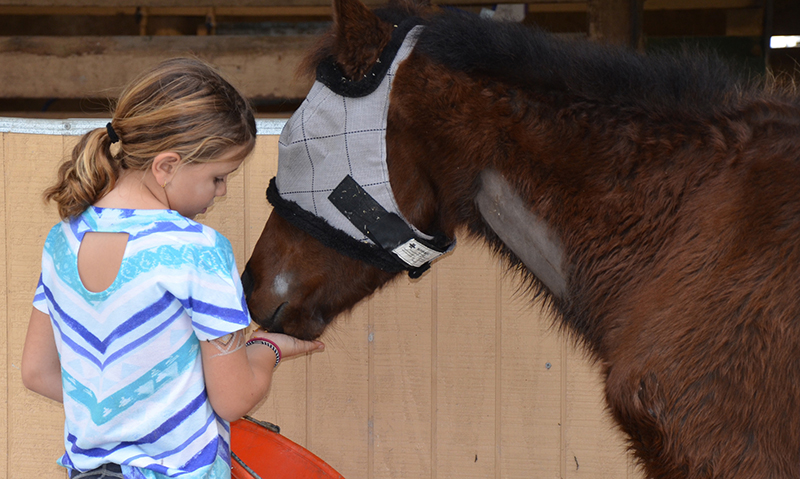 A young SFSPCA volunteer helps nurse Amazing Grace back to health. Photo ©South Florida SPCA.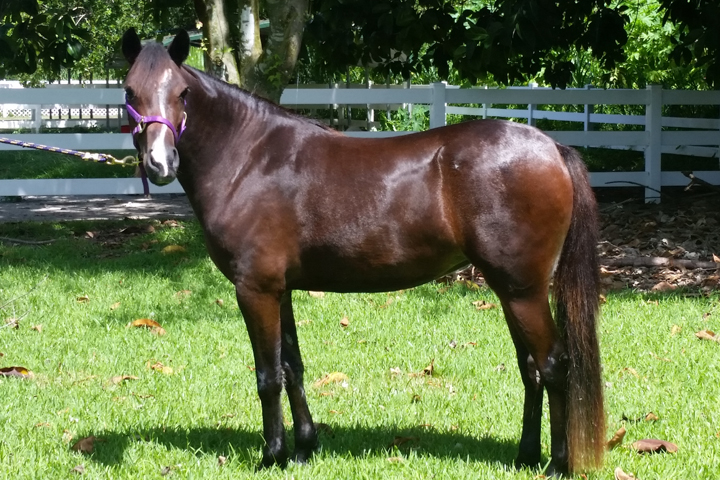 Amazing Grace's dramatic transformation after months of rehabilitation. Photo © South Florida SPCA.
Watch video of Amazing Grace's rescue and recovery below:
Fifteen hundred miles north, photos of Amazing Grace on SFSPCA's Facebook page caught the eye of Marilyn Lee at Sherwood Farm in St. Catharines, Ontario. "I saw her current photo and thought, 'now there is a lovely pony.' Then I saw the photo of her in the dirt, and that was it," explained Marilyn. She showed the pictures to her daughter and Sherwood's head trainer, Robin Hannah-Carlton, who said, "It only took one glance for me to agree. Grace's story, her will to fight and live, combined with her beautiful face and conformation… the decision was a no brainer."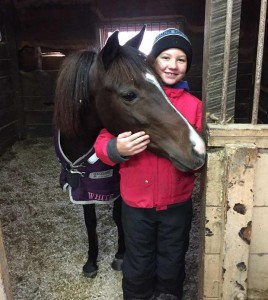 Lee officially adopted Amazing Grace from SFSPCA on December 27, 2016. And exactly one year and a day after she was rescued, the little pony that refused to give up stepped off a giant motor coach and into her new life, leaving her abusive past far behind. "One quick look around and she was down the ramp, up the snowy lane and into her stall," said Marilyn.
And though it was nearly 2:00 a.m. when she finally did arrive, 11 year old Abby was there alongside Marilyn to welcome her on that cold Canadian night. "I couldn't wait to snuggle her!" said Abby. "I heard she could be a tad sassy, but I said that's okay, she's allowed."
Grace's new home at Sherwood Farm, idyllically located on the crest of the Niagara Escarpment, is heaven on earth compared to the hellhole she was found in. And, it happens that Marilyn and Robin have become rather well-known for their remarkable ability to transform formerly abused horses' lives into amazing success stories. One of the most notable is another SFSPCA rescue, an off-track Thoroughbred named Prodigioso, known as "The Everglades Horse."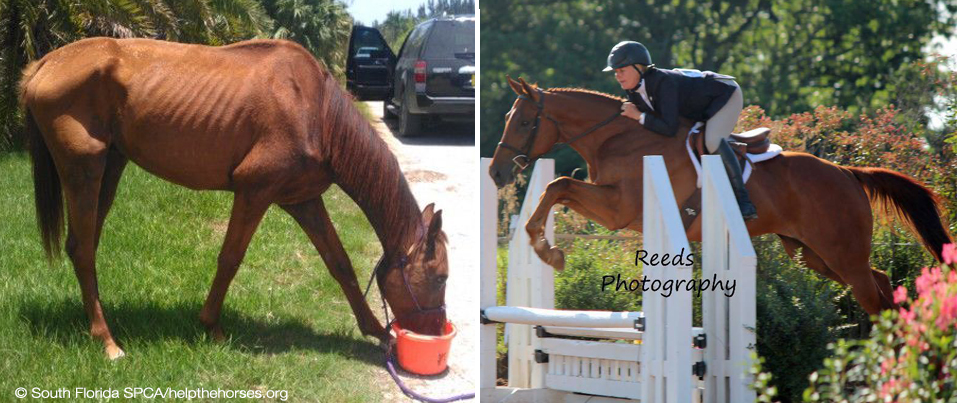 Prodigioso, "The Everglades Horse" when rescued by South Florida SPCA in July, 2012 (left), and showing with Robin Hannah-Carlton in August, 2013 (right, photo ©Reeds Photography).
The former racehorse had been dumped in The Everglades, hobbled with a cement block tied to a back leg, and left to starve and die in the sweltering South Florida summer heat. He was emaciated and newly blinded in one eye, suffered painful rope burns, and could barely walk with all four hooves infected with thrush. Today, "The Everglades Horse" is a phenom in the top Canadian hunter show circuits, and has wowed crowds in Ocala, FL at HITS (Horse Shows In The Sun) and in Baltimore, MD at Pimlico Race Track at the Retired Racehorse Project's Thoroughbred Makeover and National Symposium.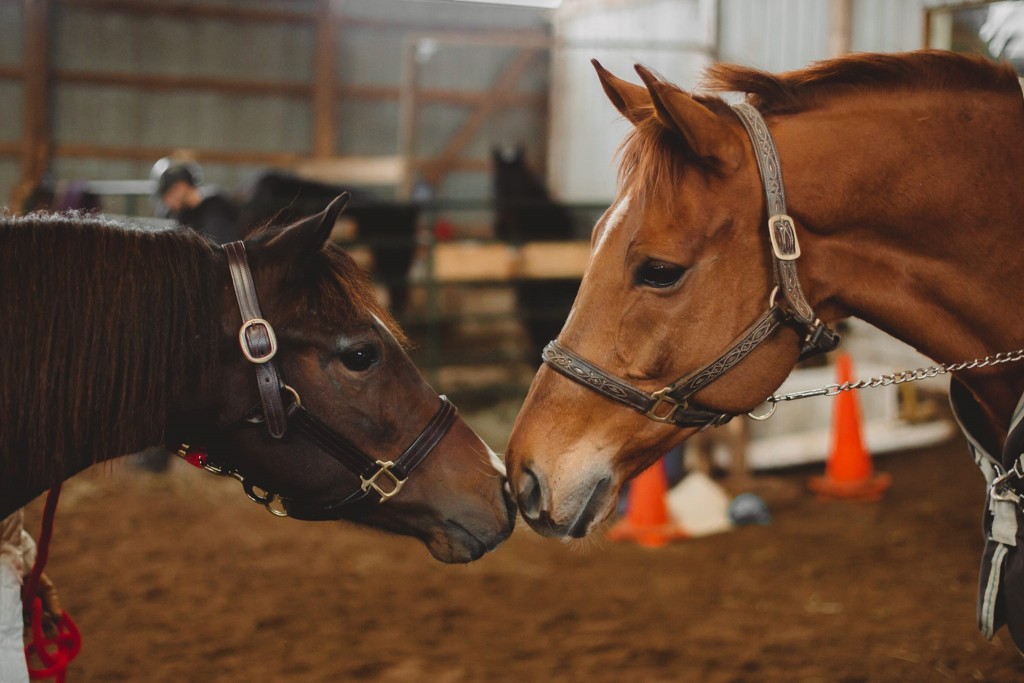 "You're going to like it here." SFSPCA rescues Amazing Grace and Prodigioso meet for the first time. Photo ©Rachel Sulman Photography.
As with Prodigioso, Marilyn and Robin knew that Amazing Grace would also need patience and special handling to give her the chance to succeed, which they were fully prepared to do. Especially since Grace arrived, at four years young, untrained. It was anyone's guess how that would go, or if she would even like being ridden.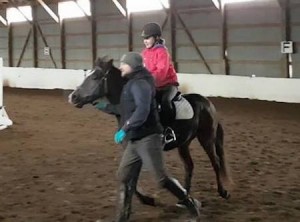 But they didn't have to wait long. Only a few days after her arrival, Robin introduced Grace to her saddle and bridle. The next day, Abby eased into the saddle and was led around while Grace acclimated.
Soon after, SFSPCA started getting photo and video updates from Marilyn and Robin via text and email, and it was their turn to be amazed. "We couldn't believe what we were seeing. One day Abby's riding Grace solo, then they're trotting around the arena, then cantering," said SFSPCA board member, Julie Shelton. "The next thing we know, Abby and Grace are popping over their first jump together… It was jaw-dropping!"
"Grace's training has been very smooth, she takes everything in stride. Abby is an extremely gifted young junior rider, and that pony is full of talent and so willing to please," explained Robin. "With ears forward, Grace is always looking for the next jump. And her jump… Perfect technique, knees-to-nose and so round through her body. She just loves it!"
Grace's incredible progress has drawn quite a following on social media. But most are shocked to learn of this pony prodigy's abusive past. "Honestly, the majority of people react with horror after I tell them Grace's story," said Robin. "So many find it unbelievable that horses suffer the kind of abuse that both she and Prodigioso survived. By adopting rescued horses and ponies, we're able to raise awareness and educate the public," Robin emphasized.
Abby has also taken up the effort to spread the word, and recently made a presentation about Amazing Grace to her class at school. It's an effort very much applauded by SFSPCA. "Your Next Champion Just Might Be a Rescue" is a message the organization campaigns through advertising and social media, which features Prodigioso and another SFSPCA rescue's success story. On the next campaign, there's no doubt the spotlight will be shining on Grace.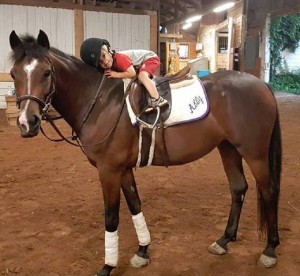 "Amazing Grace's story is like a fairy tale," said Julie. "There were many days when we didn't know if she was going to make it. When she finally was out of the woods, we were just thrilled that she was alive. Now, Grace having a home for life at Sherwood Farm with Marilyn and Robin is beyond anything we could have ever dreamed for her."
"We truly cannot thank South Florida SPCA enough for entrusting us with this amazing girl," said Robin. She makes me and all of us at Sherwood so very happy!"
Since that first show in May, Amazing Grace and Abby have gone on to other shows and have won even more ribbons together. According to Robin, Grace will go on to compete on the A circuit in the green pony division next year.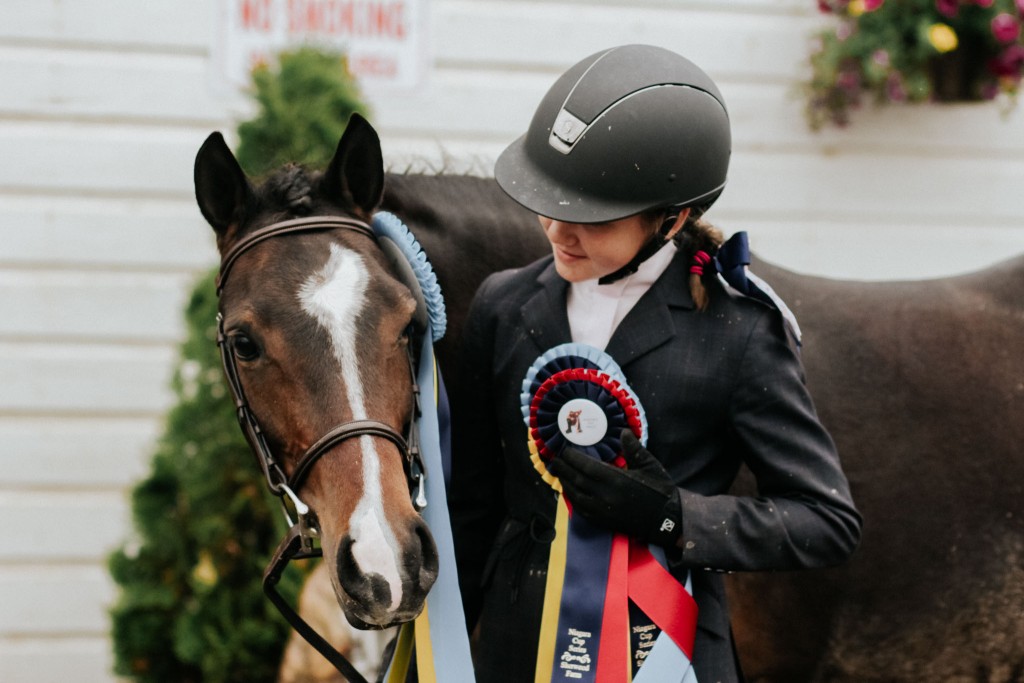 Amazing Grace and Abby Banis celebrating their successful first show together. Photo ©Rachel Sulman Photography.
And SFSPCA? It will continue rescuing, rehabilitating, rehoming and advocating for horses just like Amazing Grace. Now in its 25th year, the organization has saved over 2,000 horses and other livestock in Miami-Dade, Florida.