Meet Lionel, the cow, and Amos, the pig, two best friends 
brought together under horrific circumstances that are 
now bonded for life.
March, 2023
On May 22, 2021, Amos and Lionel were rescued from a roadside stand selling animals for sacrifice in South Dade by the South Florida Society for the Prevention of Cruelty Against Animals (SFSPCA), a nonprofit organization dedicated to saving abused and abandoned horses and livestock in Miami-Dade. Both animals were living in squalor.
"Amos was in a closed shelf up above where the cow was laying among dead chickens and excrement," recalls Christine Septer, executive director of the SFSPCA. The animals were stuck behind closed doors, in the dark, with no food or water. "Lionel was a calf, and he was so emaciated he could not stand," explains Septer.
When rescuers brought the animals back to the SFSPCA facility in Homestead, they decided to place Amos and Lionel together. "The pig was so little that we had to put him somewhere safe, and the cow was so young and frail that we decided to put them in a stall together so that they could comfort each other," says Septer.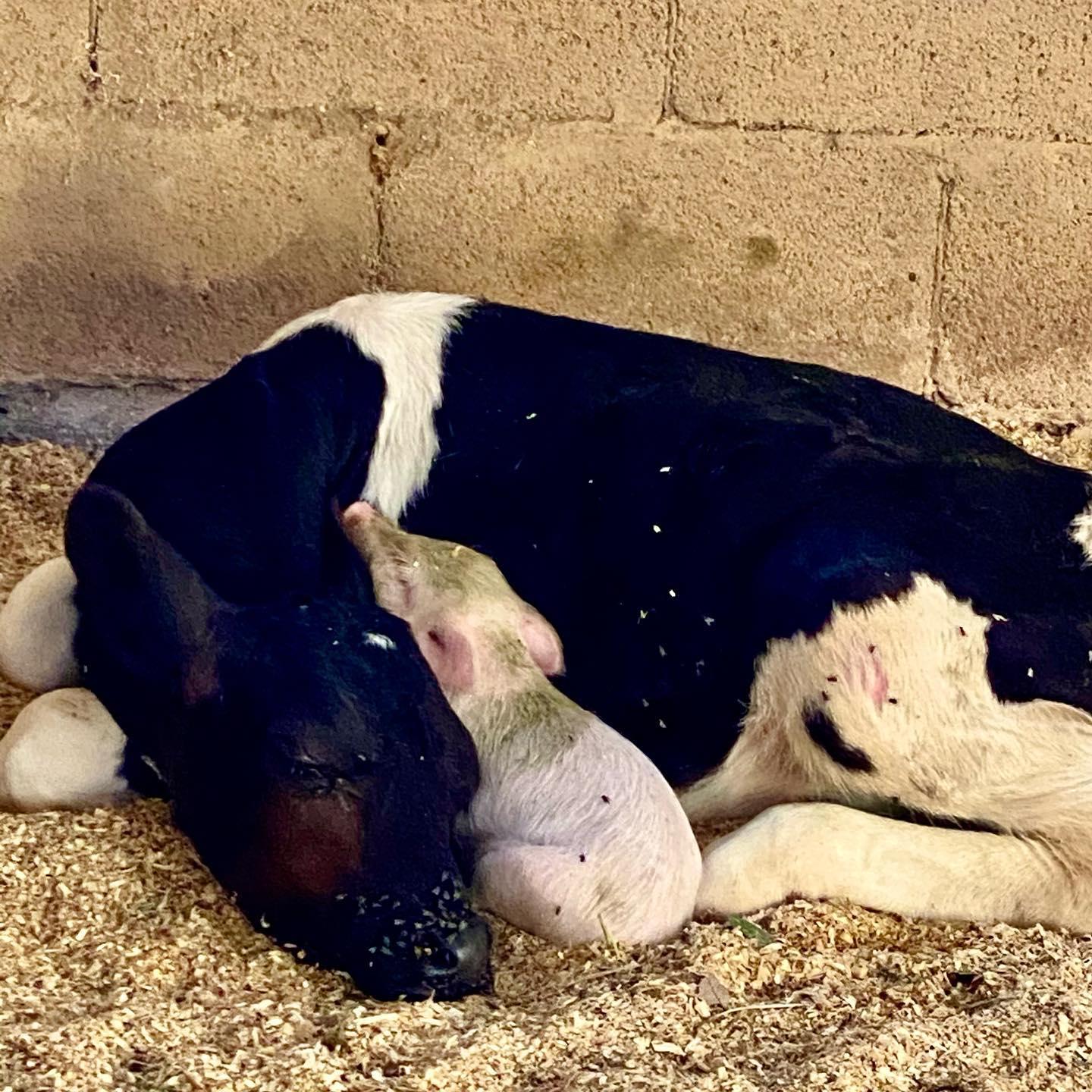 The results of this decision surprised rescuers in the best way possible. The two animals slept together, and they were always in the same part of their stall. And when Lionel was finally strong enough to start walking again, Amos began following him around.
"We'd start letting the cow run around in the backyard, and wherever the cow went, the pig went. They were priceless. They bonded. They became inseparable," enthuses Septer.
After the trauma they had already experienced in their young lives, rescuers did not want to see these two animals separated. Thankfully, Critter Creek Farm Sanctuary, the largest bovine sanctuary in the country, volunteered to take both Lionel and Amos and provide them with a forever home where they would never be separated.
"We were already working on the rescue of 40 cows in Sunrise, not too far from where they were," says Sheena Drost, board secretary and office manager of Critter Creek Farm Sanctuary. "Finding out they were right up the road, the board met and decided we couldn't just leave these two here."
And so, on June 6, 2021, Lionel and Amos were taken to their new home in northern Florida, a 400-plus–acre sanctuary with facilities in Gainesville and Alachua that is home to more than 200 farm animals, 161 of which are cows.
Critter Creek protocol mandates that all new animals be quarantined upon arrival. But because Lionel and Amos were so bonded—even snuggling together when they sleep—the team created a setup where the two friends would have access to each other during quarantine.
"Amos was in a little stall inside the pasture, so at least he and Lionel could be nose to nose. We would also let Amos out to play with Lionel because they were so bonded," recalls Drost.
Though they would be together, the road to recovery was a slow one because of the shape they were in. "Theirs was one of the worst cases we've seen," explains Drost. "They do a body score assessment and the vet said it was the lowest it can be. Say on a scale of 1 to 5, they were at a 1, so it took some time and a lot of love. But they're flourishing now."
And during those rare times when separating the two friends was a must—like when Amos was getting neutered—the two only proved further how deep their bond goes. "Amos would look around for Lionel, and every time that Lionel went out, he would look for Amos," recalls Drost. "We have a video of them being released back together, and they were just rubbing all over each other and so happy and excited to be together again."
In the beginning, Lionel was also Amos' protector. "Amos was understandably very timid around humans," explains Drost. "For the longest time, when we would come into the pasture, he would run and hide underneath Lionel. It was the cutest thing."
Lionel is now in his "terrible twos" and loves to play. But he makes sure not to engage in any rough-housing with his smaller companion. "It's like he knows Amos is smaller so he needs to be gentle with him," says Drost.
Since arriving at Critter Creek, both Amos and Lionel have expanded their social circle. Amos has a trio of pigs he's become friends with named Marley, Boomer, and Potato, and Lionel has a whole herd of cows. But none of these friendships compares to that of these two best friends—at least not if food is an indicator.
"Lionel's the only one that can come over if there's still food on the ground for the pigs," says Drost. "Amos will chase off the other pigs, but if Lionel comes over, he's like, 'I'll share with you, it's cool.'"
And no matter how much time each one spends with his new friends, at the end of the day they are always back together, each following the other.
"Lionel and Amos are just so close we're not sure they'll ever be separated," surmises Drost. "They're all each other had in the beginning of life. They'll probably always be together."