September, 2023
Animal rescuers and authorities in Miami-Dade County are looking to identify the brand on a horse that was surrendered Wednesday in Homestead as her owner was charged with animal cruelty.
South Florida SPCA Ranch and Rescue Operations Director Laurie Waggoner said both the nonprofit and the Miami-Dade County Animal Services Department had received tips about the horse, which was being kept at a property in the area of SW 112th Avenue and SW 312th Street, according to a Miami-Dade Police Department spokesperson. Upon arrival, Waggoner told NBC6 that it was clear the horse was not being fed adequately, but she didn't realize the extent of the animal's health issues until she got closer.
"I knew I could see hip bones, but I couldn't see just how thin she was," Waggoner said. "She's on a dangerous piece of property with abandoned cars and, like I said, deep holes in the ground, and, you know, blind and scared. You know, we thought it best to get her out of there."
Waggoner said that rescuers named the horse Windy because of the blustery conditions left by Hurricane Idalia as it made landfall earlier this week. The horse is believed to be at least 20 years old, though information is limited.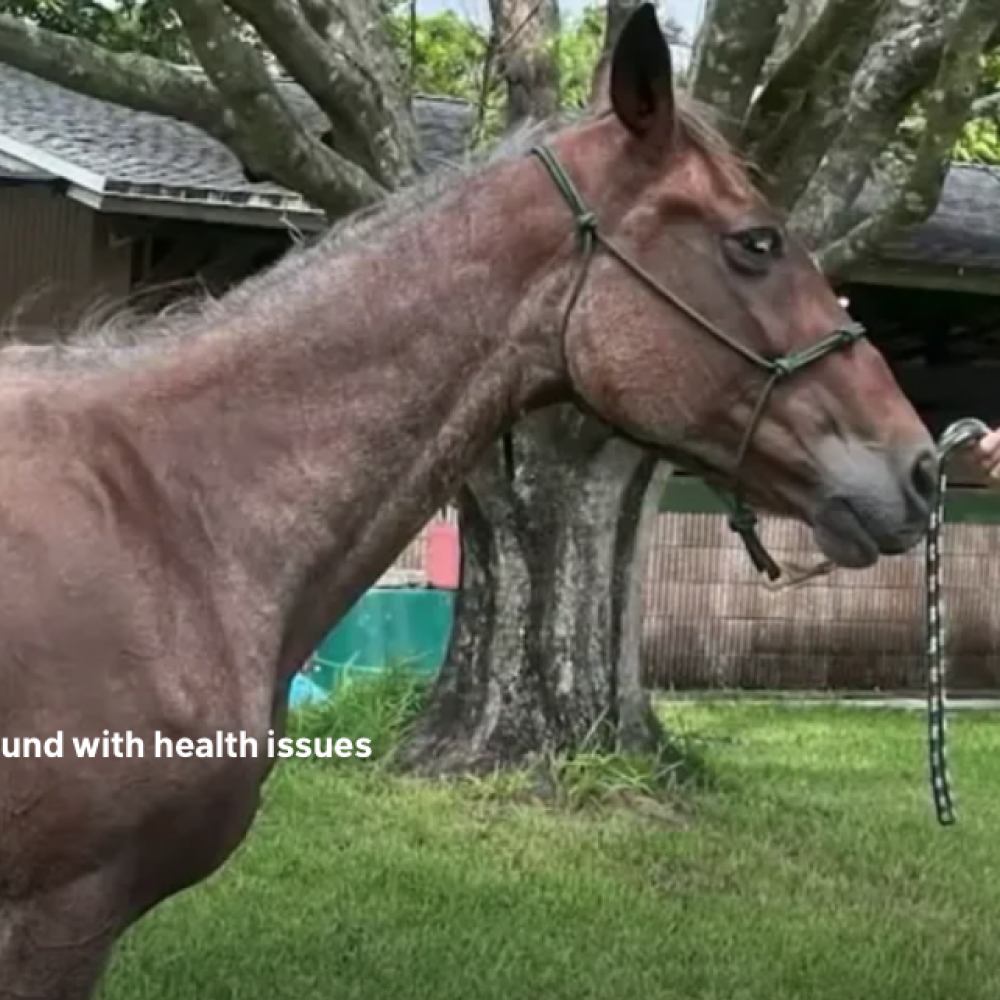 "He didn't know much about her at all. He didn't have any details," Waggoner said of Windy's most recent owner. "Obviously, by the horse's behavior, he couldn't even catch the horse, so you know it's not a horse he went out there and groomed or took care of. He may have dumped some food once a week or something."
According to a Miami-Dade Police Department spokesperson, owner Carlos Bermudez, 47, surrendered the horse and was charged with animal cruelty. Bermudez was not taken into custody but instead instructed to appear in court at a later date.
Waggoner said Bermudez told rescuers that the horse had only been in his care for approximately two years, but that the senior mare had been on the property since 2016. She was left with a brand that may have been placed there by a previous owner.
"It's always hard to see," Waggoner said. "In almost every situation, I ask myself, 'What's going to be best for this animal?' and, in her case, you know, bringing her in here is what was best for her."
Since being rescued and rehomed to the SPCA, Waggoner said that Windy has received treatment on her hind leg for a wound that was believed to have been present for several months. She has also gotten vaccinations and will be integrated with the other horses in the SPCA's care as her recovery progresses.
"She'll just be loved and fed and rehabbed," Waggoner said, "and she'll eventually probably be looking for a permanent retirement home."