By Kathleen Monahan
I can't believe I just marked my three-year anniversary as president of South Florida SPCA (SFSPCA). My husband and I had been avid horse lovers for years, but the active life that came with our sons, dogs, and cats seemed to eat every minute of the clock. With our younger one off to college, I was feeling that empty nest syndrome. When people we love leave us, we don't have less love to give. I think some of us need new outlets for sharing and expressing that love. And so, we thought, just maybe we could fill our empty nest with a… horse.
We'd admired the work of SFSPCA for years, having seen them on local news rescuing scared and emaciated horses from horrible conditions. Dare we adopt, not shop, as the saying goes? My husband didn't think so. "It's a rescue. It's going to be filled with old nags," he sniffed dismissively. "What's wrong with old nags?" I asked. As a woman approaching a certain age, I felt a bit defensive of old nags. "Maybe they become nags because none of the horses ever listen to them. Ever think of that?" And then I, well… nagged. And so, off we went to meet with Laurie Waggoner, and we adopted two beautiful horses whom we love dearly. Neither was an old nag, not that there's anything wrong with that. And we all lived happily ever after.
Except that's not entirely true.
Well, it's true for our horses, but it's the opposite for so many of our equine friends in Miami-Dade.
Al Eskanazy of the Greater Miami-Miami Beach Police Foundation, Greg DiMaria of West Delray Collision Center, Shareef Malnik of The Forge and Commisionner Sally A. Heyman.
Like so many people, we were only vaguely aware of the extent of cruelty toward these animals. I liken our county to Ground Zero for horse and livestock abuse.
SFSPCA, now in its 26th year, is the only horse and livestock rescue working with law enforcement in this county. Over 50 horses, all cruelty cases, reside at the ranch at any given time. SFSPCA is not part of a national organization. It stands alone. And the cost of keeping the doors open is staggering. Except that's not entirely true.
We don't stand alone. We can't stand alone. We have YOU, our great friends and partners without whom we would not survive another day, week, month, year.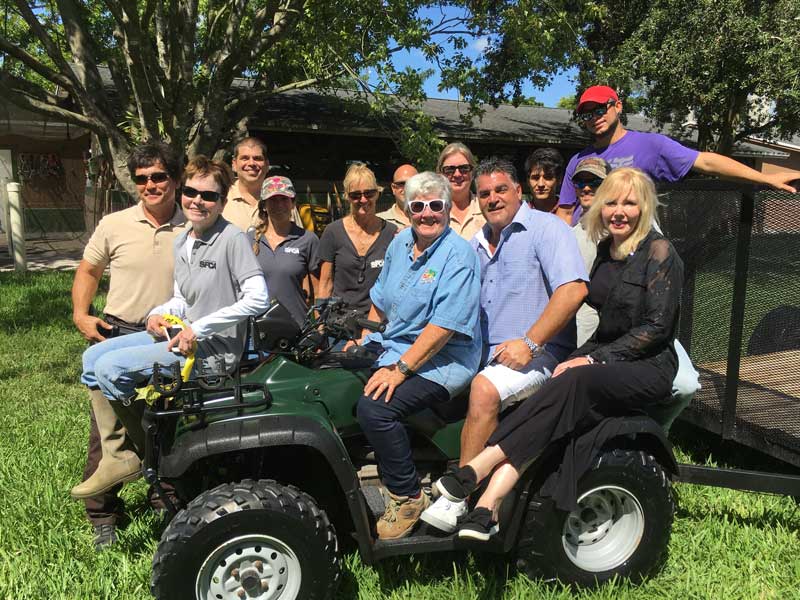 All aboard! Commissioner Sally A. Heyman, SFSPCA staff and board members, and law enforcement officers hop on the new ATV and flatbed trailer generously donated by Greg DiMaria (West Delray Collision Center). Special thanks to the Greater Miami-Miami Beach Police Foundation (not pictured: Al Eskanazy, Barry Skolnick Co-Chairs). #Partners!
We are so grateful for the generous support of The Batchelor Foundation, The Lowell S. and Betty L. Dunn Family Foundation, The Moss Family Trust, The Freed Family Foundation, The Laverna Zeley Testamentary Trust, The Emily Vernon Foundation, The Gould-Shenfeld Family Foundation, The Audrey Love Charitable Foundation, The Linda M. Diciaula Trust, The Thoroughbred Aftercare Alliance, The Carmen Rebozo Foundation, South Florida Trail Riders, Julie Shelton, Caryl Henry, David Wallack (Mango's Tropical Café) and The Wallack Family Foundation, Ellyn and Lewis Robinson, Virginia Best, Sandy Knudsen, Eleanor Miller, Alison and John Kunkel, Deborah and John Freud, Stacey Sherman (Helping Animals Thrift) and so many others who contribute year after year. My heartfelt thanks for your friendship and support of this mission.
And speaking of friends and partners, we have also forged a new, more powerful partnership with Miami-Dade Animal Services (MDAS), Miami-Dade Board of County Commissioners (BOCC), and local law enforcement. After Hurricane Irma, MDAS stepped in with funds to replace downed fences, allowing us to bring the displaced horses home. This year, in addition to an increase in County financial support, our organizations have committed to strengthening our partnership on cruelty investigations, court cases, and ways to prevent horses from winding up in need of rescue.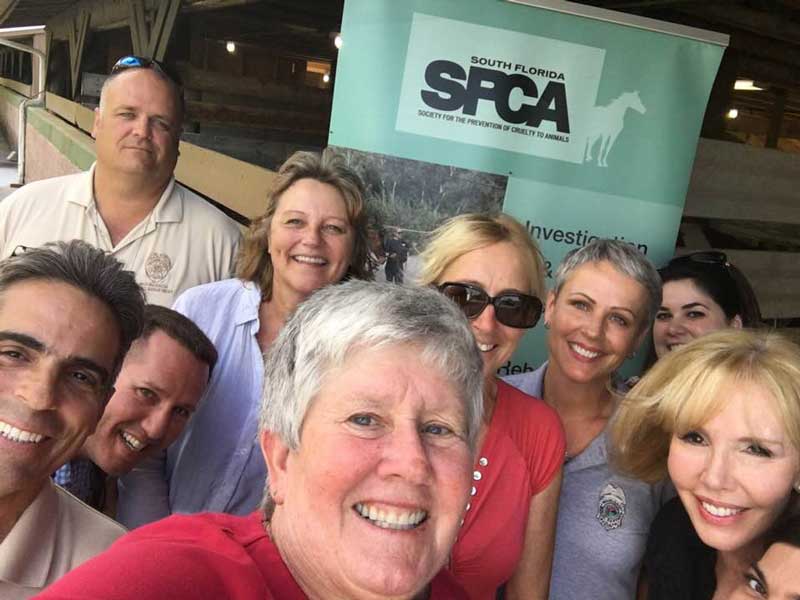 Miami-Dade County Commissioner Sally A. Heyman (foreground) with Miami-Dade Agricultural Patrol officers, Miami-Dade Animal Services officials and SFSPCA representatives working together at our rescue ranch. [/one_half] [one_half last=last]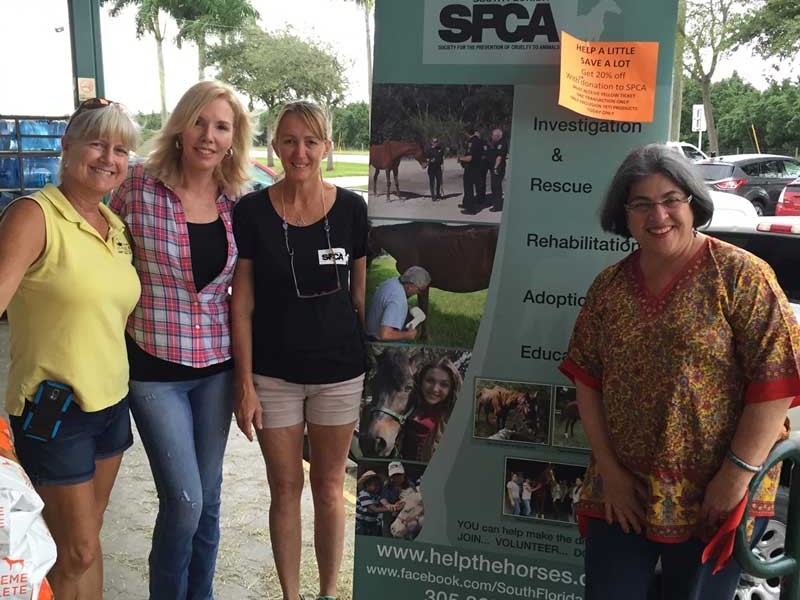 Andrea Sante of South Florida Trail Riders, Kathleen Monahan and Laurie Waggoner of SFSPCA, and Miami-Dade County Commissioner Daniella Levine Cava at Robbie's Feed & Supply.
This new arrangement was spearheaded by County Commissioners Sally A. Heyman and Daniella Levine Cava, and actively supported by Alex Muñoz, Director of MDAS, and the BOCC. We are so grateful to all of the commissioners who recognized the value of SFSPCA's work, and voted yes to save the lives of Miami-Dade horses: Esteban L. Bovo, Jr., Daniella Levine Cava, Jose "Pepe" Diaz, Audrey M. Edmonson, Sally A. Heyman, Eileen Higgins, Barbara J. Jordan, Rebeca Sosa, Joe A. Martinez, Jean Monestime, Dennis C. Moss and Sen. Javier D. Souto. Special thanks to Eduardo Gonzalez of the County Attorney's Office for his hard work and good humor.
While we appreciate everyone who supports SFSPCA, we must give a special shout-out to Commissioners Sally A. Heyman and Daniella Levine Cava for their extraordinary commitment to saving these horses, year after year.
This year, we've already rescued a record number of animals. We need more friends and partners to help us meet the demand. We need YOU to become a member, a donor, an adopter, or a volunteer.
Please help us keep our doors open and save the lives of these beautiful creatures. They need you. We need you. I'm asking nicely. Definitely not nagging.
Not that there's anything wrong with that.
On behalf of the Board of Directors, Volunteers, Staff and Horses, thank you for being a friend.