From the glitterati of South Beach to the ranchlands of SW Miami-Dade, a common love of horses brought out South Florida SPCA supporters to recent fundraising events and generated over $8,000. Rescued horses, now numbering over 80 in the organization's care at its two locations in Miami-Dade, FL, will directly benefit from the much-needed funds with nutritious feed, safe shelter and proper care from veterinarians, farriers, trainers and volunteers.
THANK YOU to all who attended, donated, hosted and organized!!!
HaVen For Horses • August 6, 2013
Hosted by HaVen Lounge, and organized by SFSPCA vice president Kim Rodstein.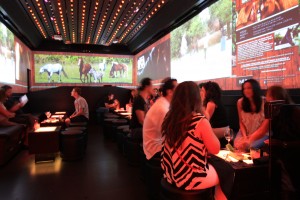 A multi-media showcase of sight and sound told the story of the SFSPCA's mission and history as patrons sipped, mixed and mingled at the newest South Beach place-to-be on legendary Lincoln Road. Haven's main mixmaster created a special vodka cocktail for the event and guests were served fresh, organic small plates. Beauty For Real sold signature makeup items to support Kim Rodstein, one of its "Beauty Heroines," and donated 25% of the proceeds. A Chinese style raffle, with items such as a Mandarin Oriental spa package, a two-night stay at the Sagamore Hotel, and gift cards to local restaurants such as Yardbird, Swine and Khong, was the highlight of the evening. Click here to view photos of the event. (Photo credit: Kasey Billitz.) Visit Haven Lounge at www.havenlounge.com or www.facebook.com/havensouthbeach.
South Florida Trail Riders Rally for SFSPCA • August 17, 2013
Hosted by Robbie's Feed & Supply, and organized by the South Florida Trail Riders & SFSPCA.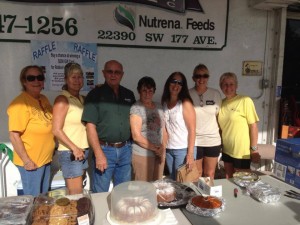 Old friends and new acquaintances connected, swapped stories and sampled delicious homemade baked goods at Robbie's Feed & Supply, a familiar and much-loved hub for horsemen and women in SW Miami-Dade. SFSPCA volunteers were on hand to share information about its horse rescue efforts and volunteer opportunities while signing up new members. A raffle was held for a $500 gift card to Robbie's, which was won by a very lucky Raye Edge of Key Largo…congratulations!!!
Visit Robbie's Feed & Supply at www.robbiesfeed.com or www.facebook.com/RobbiesFeedSupplyInc
and the South Florida Trail Riders at www.sftrdade.org or on Facebook.