"The notion that the U.S. would resume horse slaughtering at a time when the global horse meat market is in turmoil raises all sorts of curious questions."
The issue of horse slaughter is playing out at the highest levels of government – both as a matter of policy and the actual mechanics of overseeing the industry and its effects. Presented with a half dozen applications for horse slaughter plants his agency will be called on to inspect, U.S. Agriculture Secretary Tom Vilsack said this week that there should be a "third way" to manage America's horse population, and that we can develop a system to deal with homeless horses without sending them to slaughter. European authorities are still trying to figure out how some parties in the supply chain swapped out beef for horse, and duped consumers. They're also trying to determine how to maintain food safety standards by allowing trade in a class of animals not originally raised for food, and in terms of the industries from which they originate, are routinely fed and injected with drugs not fit for human consumption.
In Congress, several veteran lawmakers introduced legislation two weeks ago to ban the live export of horses for slaughter for human consumption. Meanwhile, under pressure from agriculture interests, Oklahoma is poised to repeal its longstanding horse slaughter ban. That would clear the state path for a horse slaughter plant to open, but doesn't guarantee any final approval from the U.S. Department of Agriculture on any particular plant.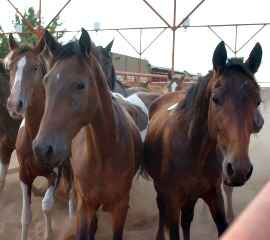 The notion that the U.S. would resume horse slaughtering at a time when the global horse meat market is in turmoil raises all sorts of curious questions. Where does the financing come from? Why would anyone invest in a shadowy business enterprise like horse slaughter, with no domestic market, with congressional legislation looming to ban exports, and with the primary global market of Europe in a tail-spin over the recent horse meat scandal? It's like investing in beach-front property right after a hurricane has slammed into the area.
The HSUS and the ASPCA have just released a poll that reveals that 66 percent of Oklahoma voters won't support horse slaughter legislation. Yet the state legislature, goaded by the phony arguments of horse slaughter proponents that killing horses is good for the animals, seems hell-bent on the idea. Remember though, it took a ballot measure to outlaw cockfighting in the state. There were some lawmakers aligned with the cockfighting lobby who believed it was a form of economic development they didn't want to squander. Hell, the family of the author of the horse slaughtering bill runs a major horse auction site, and she may be able to get a piece of the economic action that results if Oklahoma becomes the new hub of the American horse slaughter industry.
And why are the cattlemen so hot on horse slaughter? Yes, I understand they take a strictly utilitarian view toward animals, and would rather sell off a horse they no longer want for $200 to a killer buyer than to pay $200 to humanely dispose of the animal. But aside from that, if the U.S. has a horse meat scandal like Europe does, you can bet that beef sales will plunge here. As was the case with "downers," sick or injured cattle they still wanted to slaughter, big beef is an industry that's pennywise and pound foolish.
The whole thing smells like a rotting carcass. One thing you can count on is that The HSUS will not relent in our efforts to protect horses in the U.S. and throughout the world, especially from this predatory, vile slaughtering industry.
(Photo: Kathy Milani / The HSUS)