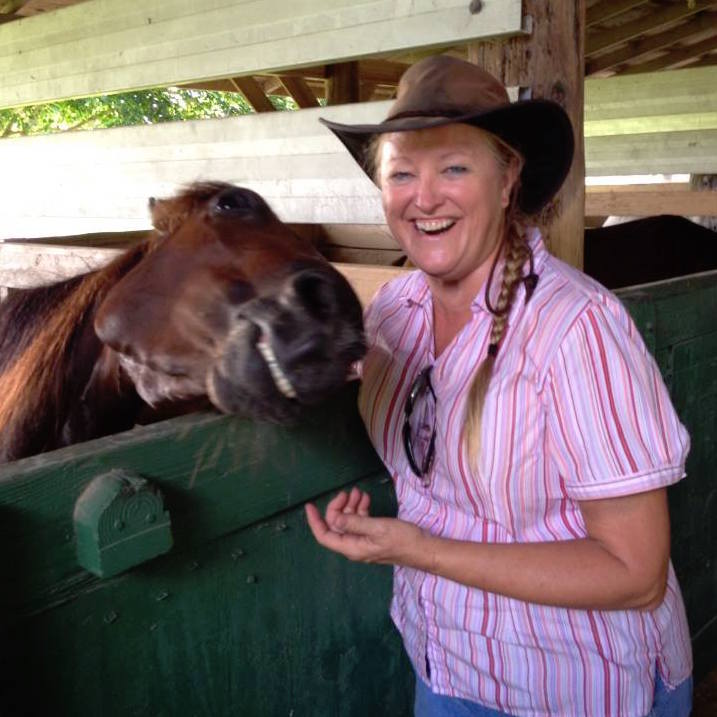 Ginger Young Krenz pictured above with Liza at SFSPCA.
(JANUARY 10 2017 – HOMESTEAD, FL)  South Florida SPCA Horse Rescue announces that Ginger Young Krenz, a local trainer and longtime supporter of SFSPCA, has taken the reins of the organization's volunteer program. Krenz now works with volunteers on Saturdays at SFSPCA's rescue ranch, in addition to jointly conducting monthly new volunteer orientation and horse safety classes with SFSPCA Education & Outreach Coordinator Susie Martell. (For schedule, click here.)
Krenz's love of horses and riding since childhood enticed Krenz to leave a successful 25 year career in commercial real estate (she was the first woman president of the Industrial Association of Miami-Dade County) to become a riding instructor, and later in 2003, to follow her dream of becoming a trainer. She and daughter Melanie Adams studied the John Lyons method of natural horsemanship, which opened the door to a world of experiences, including:
Rescuing PMU mares out of Alberta, Canada
Training SFSPCA rescued horses to be more adoptable
Attending equine expos nationwide
Giving clinics in numerous states and Dominican Republic
Riding on a three-in-hand Friesian carriage during the Fantasia Show at the Equine Affaire
Learning horse behavior, health and how to trim hooves
Training hundreds of horses and their owners
Working hands-on with over 30 breeds of horses
"I am blessed to be able to help horses understand complicated humans, and help humans learn to communicate with such an honorable animal," said Krenz. "I'm excited about the opportunity to educate and empower SFSPCA's volunteers, and help them apply their skills to help our rescued horses become more adoptable."
Besides teaching clinics at SFSPCA and working with its rescues, Krenz is also an SFSPCA adopter, giving a forever home to Sassy and Pagan, pictured below.
If you would like more information about SFSPCA's volunteer program, please click here.
To contact Ginger Krenz, please email her at ginger@helpthehorses.org.