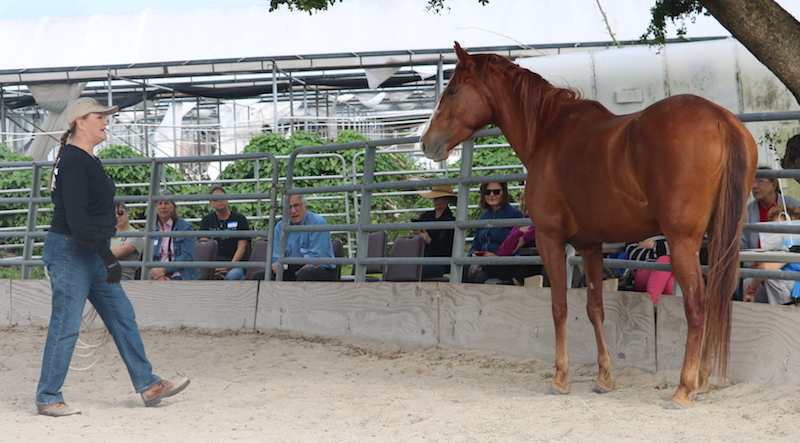 A fresh new vibe is in the air at South Florida SPCA Horse Rescue, and it was enjoyed first-hand by our members and volunteers on Saturday, January 27, 2018 at a ranch Meet-and-Greet & Complimentary Horse Training Clinic with Ginger Krenz.
Krenz, SFSPCA's Volunteer Coordinator, is also a natural horsemanship trainer who studied and uses the John Lyons method with SFSPCA's rescues as well as her own horses and those of her clients. Shortly after coming on board with SFSPCA, she eagerly anticipated hosting our recent gathering and clinic.
"The experience of bonding between horse and man is incredible," said Krenz. "Teaching people how to communicate with the horse is something I'm passionate about, and I love sharing this knowledge with enthusiasts and riders of any discipline. It was an honor and a pleasure to demonstrate for such a dedicated group of horse lovers!" continued Krenz.
For the demonstration, Krenz chose mostly green horses from a variety of breeds. Among them were: Ronnie, a recently gelded Quarter Horse; Navel Air, a registered but unraced Thoroughbred gelding; Martini, a Paso Fino mare; Kelso, a Quarter Horse gelding; Marley, a Thoroughbred cross filly; and Jackie and Fiona, mini mares and our beloved ranch ambassadors.
Among attendees was former SFSPCA president, Jeanette Jordan, who said, "The meet-and-greet was awesome! Ginger Krenz did a great job with the clinic. It was so great meeting old friends and making new ones."
Indeed, the event was a wonderful opportunity to learn and connect, and we thank everyone who attended, as well as Ginger Krenz and our staff for coordinating it. We can't wait until the next one!
Please click on the photos below to enlarge. (Photos courtesy of Susie Martell and Grace Delanoy.)