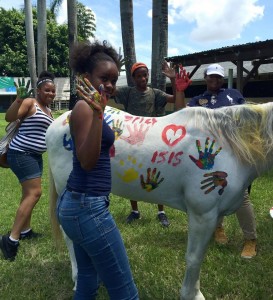 On Friday, August 5, 2016, South Florida SPCA was delighted to welcome the Miami Leaders in Training (LIT), a great group of kids who came to the ranch to learn about our mission, and to get some hands-on experience with horses.
The kids' initial nervousness was quickly replaced with curiosity and enthusiasm as they learned how to groom and bathe horses, got to decorate Merry Legs with hand paint, and take a ride on Diva. For most, this was their first time on a horse!
Outreach coordinator Susie Martell explained to the group how horses come to the rescue ranch, either picked up as strays or seized from abusive situations, and how SFSPCA rehabilitates, retrains, and rehomes them.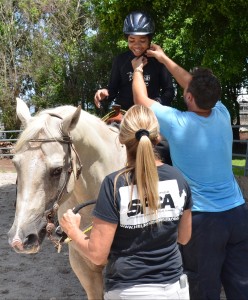 Dacia Steiner of Center for Social Change organized this visit for the group, affectionately referring to them as "The Guac Squad" after their enthusiasm for learning how to make guacamole. Who knows? Maybe they'll start calling themselves "The Pony Posse." You know we'd love that!
Special thanks to SFSPCA founder Laurie Waggoner for sharing her personal horses with the kids, and to ranch manager Dio Benitez, board member Julie Shelton, and volunteers Karen Buckhalt, Kathryn Amoroso, Lavonne Dube and Yube Miah for all their help in making the day a wonderful success.
Interested in bringing your group for an educational day at the rescue ranch? Please contact Susie Martell at susie@helpthehorses.org.
EVENT PHOTO ALBUM: