Legislation to End Rampant Cruelty in Tennessee Walking Horse Competitions Endorsed by Animal Welfare Organizations
The Humane Society of the United States, ASPCA support Horse Protection Act amendments that make key reforms including elimination of corrupt industry self-policing scheme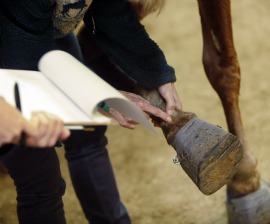 Animal welfare organizations applaud members of Congress for introducing federal legislation to stop the cruel practice of "soring"—the deliberate infliction of pain to the hooves and legs of horses to produce an artificial high-stepping gait that gains unfair competitive advantage at horse shows. The Prevent All Soring Tactics (PAST) Act of 2013, H.R. 1518, was introduced by lead sponsors U.S. Reps. Ed Whitfield, R-Ky., and Steve Cohen, D-Tenn., along with Reps. Joseph Pitts, R-Pa., Jan Schakowsky, D-Ill., Frank LoBiondo, R-N.J., and Jim Moran, D-Va., as original cosponsors. It strengthens the Horse Protection Act, originally passed in 1970.
The bipartisan bill is endorsed by The Humane Society of the United States, the Humane Society Legislative Fund, and the ASPCA (The American Society for the Prevention of Cruelty to Animals), along with a broad and unusually diverse coalition of horse industry and veterinary organizations, including the American Horse Council, American Association of Equine Practitioners, American Veterinary Medical Association and Humane Society Veterinary Medical Association.
The Horse Protection Act was enacted more than 40 years ago, but the systematic abuse of Tennessee walking horses and related breeds persists. Unscrupulous trainers spend their efforts devising a gruesome array of techniques to make it painful for these gentle creatures to take even a step, so they will lift their front legs extremely high in the unnatural gait known as "the Big Lick," rewarded by judges at some of this industry's horse competitions.
Ask your legislators to support the PAST Act »
Wayne Pacelle, president and CEO of The HSUS, said: "Without these strong amendments to the decades-old Horse Protection Act, 'Big Lick' show horses will continue to suffer at the hands of unethical trainers and owners who abuse horses to win blue ribbons. We've upgraded our federal laws in recent years relating to dogfighting and cockfighting, and now it's time to do so for horse soring."
Nancy Perry, senior vice president of ASPCA Government Relations, added: "Soring is a particularly cruel form of abuse as these gentle animals are tortured through the intentional application of intense and chronic pain throughout their show career. The Horse Protection Act was specifically enacted in 1970 to prohibit this abhorrent practice, and yet it is still a pervasive practice in the gaited horse industry four decades later. We thank Representatives Whitfield and Cohen for introducing legislation to protect these loyal horses and bring an end to soring."
Rep. Whitfield said: "Far too often, those involved in showing the Tennessee walking horses have turned a blind eye to abusive trainers, or when they do take action, the penalties are so minor, it does nothing to prevent these barbaric acts. This amendment does not cost the federal government any additional money and is essential in helping to put an end to the practice of soring by abusive trainers."
Rep. Cohen said: "In Tennessee, soring horses is illegal and unacceptable. Those responsible for abusing these horses should be punished severely and banned from the sport. How we treat animals is a direct reflection of our character, both as individuals and a nation. There is no ribbon, no prize nor championship worth the price of one's humanity."
Former Sen. Joseph Tydings, D-Md., the author and original sponsor of the Horse Protection Act of 1970, said: "I commend Congressman Whitfield on his leadership in organizing this bipartisan effort to strengthen and improve the Horse Protection Act of 1970, which is long overdue and greatly needed."
A 2010 USDA Office of Inspector General audit of the agency's Horse Protection Act enforcement program found that trainers in the industry go to great lengths to evade detection of the cruelty to which they subject their horses, rather than comply with federal law and use humane training methods.  The O.I.G. audit also pointed out the serious conflicts of interest in the current system, which allows inspectors to be chosen by the horse industry organizations representing the trainers and putting on the competitions.
Find out which celebrities and other horse advocates support PAST »
Key reforms in H.R. 1518:
Mandates that USDA, rather than industry organizations, assign licensed inspectors to horse shows when requested by show management—a reform that will create consistent, rigorous inspections and enforcement of penalties for violations.
Prohibits the use in the Tennessee walking horse, Racking horse and Spotted Saddle horse breeds of "action devices"—chains strapped to a horse's lower front legs, which agitate and strike the flesh already injured by caustic chemicals, causing the horse to lift his front legs higher off the ground in reaction to the pain.
Prohibits the use in the same three named breeds of "stacks" or "performance packages"—tall, heavy stacks of material nailed to a horse's hoof to lift her feet higher and strike the ground hard at an abnormal angle. The stacks are also often used to hide hard sharp objects inserted into the tender part of a horse's hoof to increase the pressure and pain, creating the desired gait.
Prohibits the actual soring of a horse for the purpose of showing or selling the horse, as well as the act of directing another to sore a horse for these purposes, and strengthens penalties to establish a more meaningful deterrent. The current Horse Protection Act's misdemeanor criminal penalties would be raised to felony-level, providing up to three years' jail time for each violation, and potential fines would be doubled. A third violation could trigger permanent disqualification from participating in any horse show, exhibition, sale or auction.
Background:
A shocking HSUS undercover investigation of well-known Tennessee walking horse trainer Jackie McConnell revealed that violators can continue to sore horses and enter them into shows undetected, as McConnell did while serving a five-year federal disqualification. The investigation led to a 52-count indictment of McConnell, who pleaded guilty to one count of felony conspiracy to violate the Horse Protection Act, and three of his associates, who pleaded guilty to related charges. In September, a federal court sentenced him to three years of probation and a $75,000 fine.  McConnell was indicted in March by a Tennessee grand jury for 38 counts of cruelty to animals under the Tennessee animal cruelty statute.
Former Tennessee walking horse trainer Barney Davis, convicted in federal court for violating the Horse Protection Act, stated at his sentencing hearing that "Every trainer sored horses. I mean, you have to. That's the bottom line…Without the soring, without some kind of soring, the horse, they're not going to do the Big Lick."
USDA's Animal and Plant Health Inspection Service conducted random testing at various Tennessee walking horse competitions, and the results indicate that a shocking 97.6 percent of the samples tested positive for prohibited foreign substances in 2011. In 2010, 86 percent of samples tested positive; the agency's 2012 testing results have yet to be released to the public. In addition to soring chemicals, the prohibited substances include numbing agents and drugs that mask evidence of abuse.
A recent analysis of the violation history of the top 20 trainers in the industry's Riders Cup "high point program" found that every trainer on that list in the previous two years was cited for soring violations, with a total 164 violations among them. Only seven percent actually served suspension penalties – and of those, all but a handful were for a mere two-week period. Many of the trainers and judges participating in the Celebration also have records of soring violations.
A 2012 poll conducted by Mason-Dixon Polling & Research found that voters—by a 5-to-1 margin in Tennessee and a more than 3-to-1 margin in Kentucky—support stronger federal legislation to prevent soring.  This overwhelming support comes from large majorities in all demographic groups and party affiliations.
"Action devices" and "stacks" have been widely condemned by veterinary groups, including the American Veterinary Medical Association, the American Association of Equine Practitioners and the Humane Society Veterinary Medical Association.  The United States Equestrian Federation has already banned their use on horses of the three breeds specified in the bill at all of its licensed competitions.
The HSUS filed a legal petition asking USDA to treat the use of illegal numbing or masking chemicals on horses' legs as a felony under the Horse Protection Act.