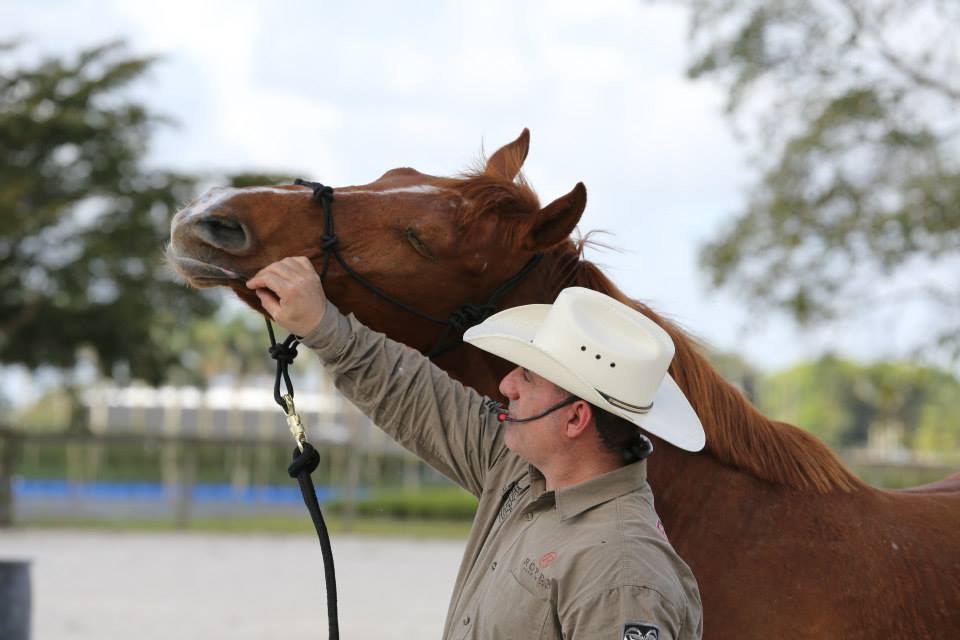 As part of the South Florida SPCA's mission to rehabilitate the rescue horses and prepare them for adoption, we had Sonny Garguilo, one of the country's leading Natural Horsemanship trainers and clinicians, visit the rescue ranch for the weekend of February 21-23, 2014.
The purpose of the clinic was to partner 10 of our rescue horses with 10 participants willing to donate a clinic fee to work with the horse of their choice for two solid days of training with Sonny. We also invited auditors to spend the weekend to watch this wonderful opportunity of learning and sharing by Sonny with his amazing patience, kindness, directness and effectiveness with the horses. The clinic sold out!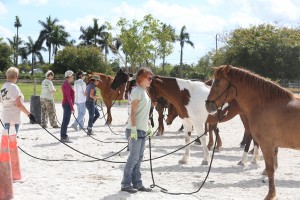 Most of the attendees were volunteers, so it not only helped train the horses but also enhanced the knowledge of the very special people who work with our horses on a weekly basis.
Sonny presented topics on basic ground handling, tying, desensitizing, round pen work, problem solving and more. He showed and shared his knowledge and philosophy of trust and fairness for the horse. "Become a partner, not a passenger," Sonny emphasized.
All goals were fulfilled during this amazing weekend. Our rescues were taught for two days and were much more relaxed and educated, as were the participants. Each person can continue their handling skills on all of our rescues each week, and we raised enough money to feed the 10 horses for a month. As a wonderful bonus, one of the participating horses, Chelsea, was adopted by a mother/daughter team that attended the clinic!
Some comments from the attendees:
"Sonny Garguilo, the way you communicate with the horses is truly inspirational and I thank you for passing on to me what I've needed to learn.  There was an instant connection with me with horses and what I didn't understand about them was what I learned this weekend at your clinic.  I feel confident that I will continue to practice communicating and loving God's gift to us.  Thank you so very much!"  – Yube Miah

"What a fabulous weekend as a participant in the Sonny Garguilo horsemanship clinic.  I learned so much from this very talented gentleman and know the lessons learned, in the end, will help our rescue horses. Don't know that Sonny will ever come back to the Miami area but I would jump at the chance to train with him again if he did!  I also have to add that I couldn't have had a better "partner" for the clinic than "Chex," he is such a superb horse and made my job easy!  Thanks, too, to such great friends, Adela Alvarez, Sherra McLeod, and Susie Martell for auditing the clinic and taking so many memorable photos both days!"  – Carolin Phillips

"Very grateful for Sonny's generous heart. It is that pebble effect that ripples out the multitude of benefits for horses and people. From the simple reminder of gentle stroking to praise, to being a good leader with much knowledge and confidence. Loved every minute."  – Adela Alvarez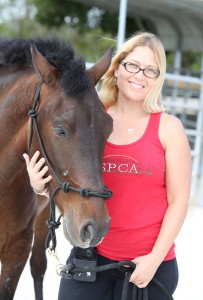 We thank the wonderful sponsors who made this possible: Brenda Godfrey, CRP, Sedgwick LLC and Stasia Rudolph. Thanks also to Roy Pressman, Susie Martell, Mercy Perez and Marth Guernsey for photos and volunteers Kathryn Harlan, Julia Smith, Lisa Gunther (also donated halters/leads), Samantha Weisener and Samantha Merz.
Many special thanks to Sonny Garguilo and his manager Joe Langan for making this event possible. The good deeds, time and talent given back will continue to bear fruit within the organization and for the future of our horses and humans! We appreciate you and hope to have you again. (Visit www.sonnygarguilo.com.)
"Don't quit on your horse," said Sonny during the clinic. SFSPCA is fully committed to that promise. In honor of Defense Team and all the horses we rescue, we will not quit on you ever.  Love doesn't quit!
Smiles and for the horses,
Crystal Foss, South Florida SPCA Volunteer Director