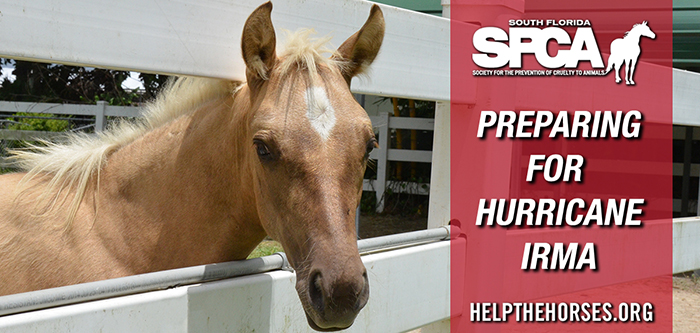 South Florida SPCA Horse Rescue is implementing its disaster plan as Hurricane Irma, now a dangerous and potentially catastrophic Category 5 storm with maximum sustained winds of 185 mph, poses an extremely serious threat to South Florida. Though the forecast may change, and we certainly hope it does, we have to prepare for Irma reaching us sometime this weekend.
Tomorrow, we will begin moving 48 of our horses to three different locations. Six are already settled in at another location offsite. Our staff is busy procuring the feed, supplies and medications our rescues will need to sustain them through the storm.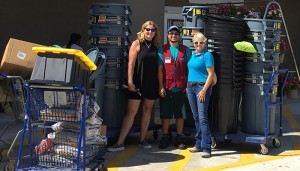 We are very grateful to those who are lending their help and support. Yesterday, the management and staff at Lowe's of Homestead not only bent over backwards to help us procure and load all our needed supplies, they also gave us a very generous 50% discount. Spectrum Saddle Shop has collected a significant amount of medical supplies and other horse care items for our rescues as well. If you would like to contribute, please click here.
For those of you who are horse owners in the projected path of the storm, we strongly encourage you to visit FloridaHorse.com for a wealth of vital tips and helpful resources. Lisa Oppenheimer, SFSPCA director of ranch operations, emphasizes the following:
Put your name and phone number on your horse. Shaving it under your horse's mane with clippers is best, or use a livestock paint marker.
Fill any and all available clean containers with water. In addition to the water supply at our temporary facilities, we are filling 32 gallon trash cans for each horse that will last them potentially 3 days.
Make sure your horses have at least 2 bales of hay each.
If you are able, get your horse a tetanus booster.
If leaving a halter on your horse, make sure it's leather or a breakaway at a minimum. You may also want to put a fly mask on underneath to protect your horses' eyes from flying debris.
We will post updates as best we can via our social media accounts, website and email. In the meantime, all of us at SFSPCA send our heartfelt best wishes for the safety and well-being to all in harm's way.
Kathleen Monahan
President, South Florida SPCA Horse Rescue