Heartfelt thanks to all who donated to our Save a Horse – Feed a Rescue Thanksgiving Feed Drive!!! Donations totaling $1,263 were received, and will be used to purchase feed and hay to nourish our rescued horses. We are incredibly grateful for our wonderful supporters who care as much as we do about abused and abandoned horses. Your generosity allows us to save them and give them a second chance at life.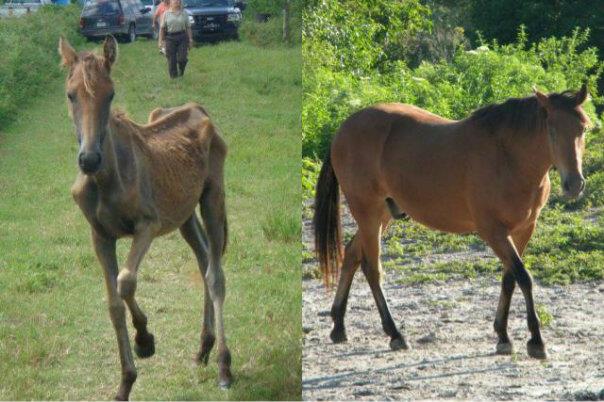 The most dramatic difference in our rescues' well-being simply comes from feeding them. The majority of the horses come to us starved and emaciated, some down to skin-and-bone. The transformation that occurs even after just a couple of weeks is incredible, though it often takes months to restore some of them back to a healthy weight. (See Petrie's amazing then-and-now photos at left…this is what we're talking about!)
Now home to seldom fewer than 70 horses, the average monthly feed bill at the rescue ranch is over $10,000!
Because of the positive response from donors who appreciated the ability to donate feed specifically, we will keep the options available on our website throughout the holiday season. If you missed the opportunity to participate in the feed drive and would like to gift our horses hay and feed, please click the images/links below. Thank you again for your support!