On Sunday, March 5, 2017, pre-vet students from the University of Miami rolled up their sleeves and pitched in for a work day at the South Florida SPCA rescue ranch in Homestead. The visit was coordinated by SFSPCA volunteer Kaitlyn Drozdowicz, with SFSPCA volunteer and FIU pre-vet student Brianna Chin helping out as well. SFSPCA Education and Outreach Coordinator, Susie Martell, acquainted the group with the organization's mission and facility. Later, the group was joined by other staff and volunteers in ranch chores.
Said Susie, "It was a hard but very productive day of work, and we all had great fun doing it!"
South Florida SPCA Horse Rescue is delighted to welcome groups to the ranch as part of its Education and Outreach Program. Those interested in coordinating a visit may contact Susie Martell.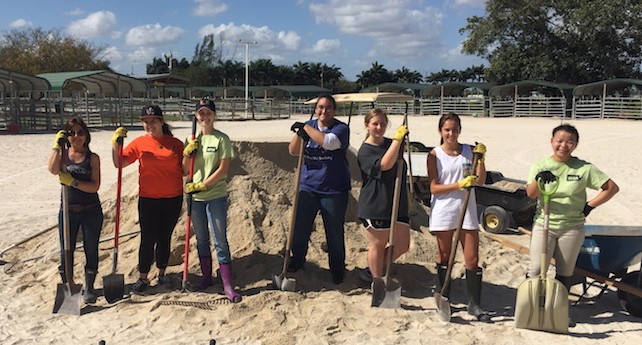 Photo credit: Susie Martell