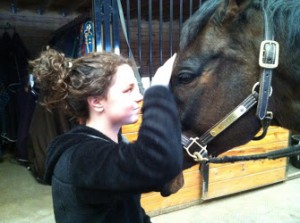 We are thrilled to learn that 11 year-old Carly Jennings of Winnetka, IL is raising funds for SFSPCA as part of her bat mitzvah service project! Carly, an avid reader who has been riding horses for three years, set a goal to read 200 books with at least 200 pages each, and in so doing, raised $5,000 for our rescue so far. Only a year into her project, she has reached that financial milestone and has read over 110 books! Carly has now decided to double her goal to $10,000! Her mother, Ruth, helped her research horse rescue organizations throughout the U.S., ultimately choosing South Florida S.P.C.A. Of the choice, Carly writes on her blog:
"I am asking you to sponsor me for each book that I read and I will be donating all of the money I raise to South Florida SPCA Horse Rescue because they help horses that are in danger of dying. I chose this organization because I love to horse back ride and I love horses."
THANK YOU CARLY!!! We are amazed by your progress, and are grateful for your support!
To learn more about Carly's project, Carly Reads 4 Horses: 200 books in 2 years … 41,600 pages … to help horses, visit http://carlyreads4horses.blogspot.com. Please help her reach her goal!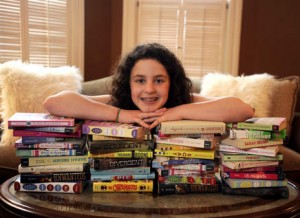 Check out this great article about Carly in the
Winnetka Sun-Times (May 1, 2013):
PHOTO CREDITS:
Above: Ruth Jennings
Left: Michael Schmidt, Sun-Times Media