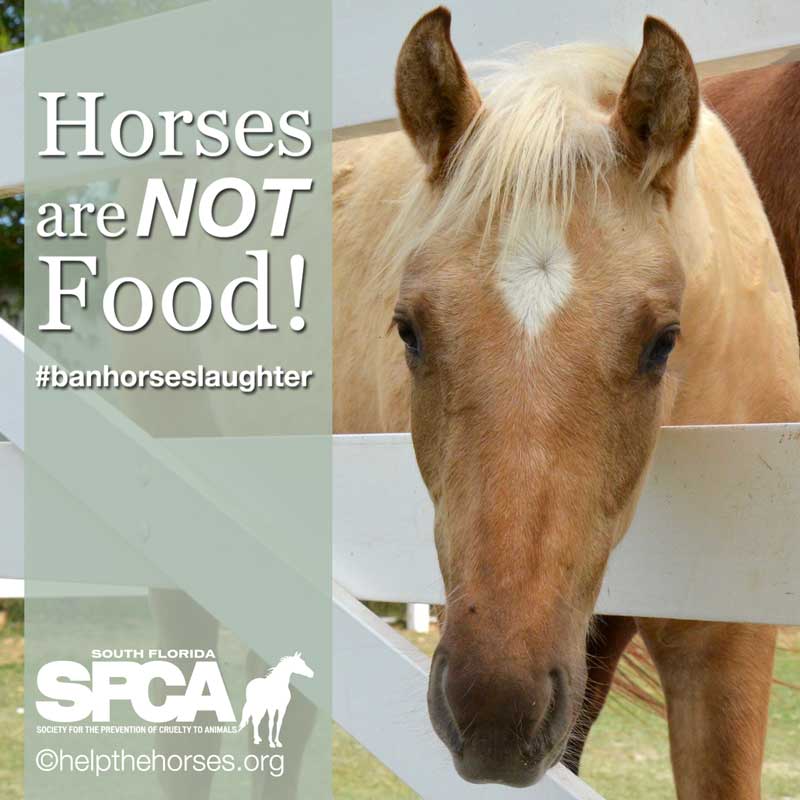 A crucial vote that will determine whether or not horse slaughter plants open in this country is coming on Tuesday, May 22, 2018. The U.S. Representatives listed below are the few members of Congress who vote on this amendment and they need to know that you want the grisly horse slaughter industry to stay out of the U.S.
We urge everyone to please call their Representative's office today. A short suggested script is provided below. To find your Representative's phone number, click here.
"As your constituent, I'm calling today to urge Representative _________________ to vote YES on the amendment to the FY19 Appropriations Bill to continue the ban on horse slaughter plant inspections. Horse slaughter is inhumane, and as Americans we cannot allow this predatory industry to re-open in our communities. Thank you for your time."
South Florida SPCA Horse Rescue's board of directors sent a letter to Representative Mario Diaz-Balart (R-FL, 202-225-4211), regarding the issue and the upcoming vote. You may read it by clicking here.
[social_button button="facebook" furl=" https://spca-sofla.org/house-appropriations-committee-vote-yes-to-continue-ban-on-horse-slaughter-plant-inspections/" fsend="on" flayout="button_count" fshow_faces="on" fwidth="450″ faction="like" fcolorsheme="light"] [social_button button="twitter" turl="https://spca-sofla.org/house-appropriations-committee-vote-yes-to-continue-ban-on-horse-slaughter-plant-inspections/" fsend="on" flayout="button_count" fshow_faces="on" fwidth="450″ faction="like" fcolorsheme="light"]
---
[one_half]REPUBLICANS
Rodney P. Frelinghuysen, New Jersey, Chairman
Harold Rogers, Kentucky
Robert B. Aderholt, Alabama
Kay Granger, Texas
Michael K. Simpson, Idaho
John Abney Culberson, Texas
John R. Carter, Texas
Ken Calvert, California
Tom Cole, Oklahoma
Mario Diaz-Balart, Florida
Charles W. Dent, Pennsylvania
Tom Graves, Georgia
Kevin Yoder, Kansas
Steve Womack, Arkansas
Jeff Fortenberry, Nebraska
Thomas J. Rooney, Florida
Charles J. Fleischmann, Tennessee
Jaime Herrera Beutler, Washington
David P. Joyce, Ohio
David G. Valadao, California
Andy Harris, MD, Maryland
Martha Roby, Alabama
Mark E. Amodei, Nevada
Chris Stewart, Utah
David Young, Iowa
Evan H. Jenkins, West Virginia
Steven Palazzo, Mississippi
Dan Newhouse, Washington
John R. Moolenaar, Michigan
Scott Taylor, Virginia [/one_half] [one_half last=last]DEMOCRATS
Nita M. Lowey, New York
Marcy Kaptur, Ohio
Peter J. Visclosky, Indiana
José E. Serrano, New York
Rosa L. DeLauro, Connecticut
David E. Price, North Carolina
Lucille Roybal-Allard, California
Sanford D. Bishop, Jr., Georgia
Barbara Lee, California
Betty McCollum, Minnesota
Tim Ryan, Ohio
C.A. Dutch Ruppersberger, Maryland
Debbie Wasserman Schultz, Florida
Henry Cuellar, Texas
Chellie Pingree, Maine
Mike Quigley, Illinois
Derek Kilmer, Washington
Matt Cartwright, Pennsylvania
Grace Meng, New York
Mark Pocan, Wisconsin
Katherine M. Clark, Massachusetts
Pete Aguilar, California [/one_half]