Slaughter of horses for human consumption occurring with horrifying regularity in Miami
(HOMESTEAD, FL – 7/31/16) South Florida Society for the Prevention of Cruelty to Animals (SFSPCA) and Miami Dade Agricultural Patrol were at the gruesome scene at SW 187th Avenue and SW 180th Street in Southwest Miami Dade where the carcass of a brutally slaughtered horse was discovered this morning.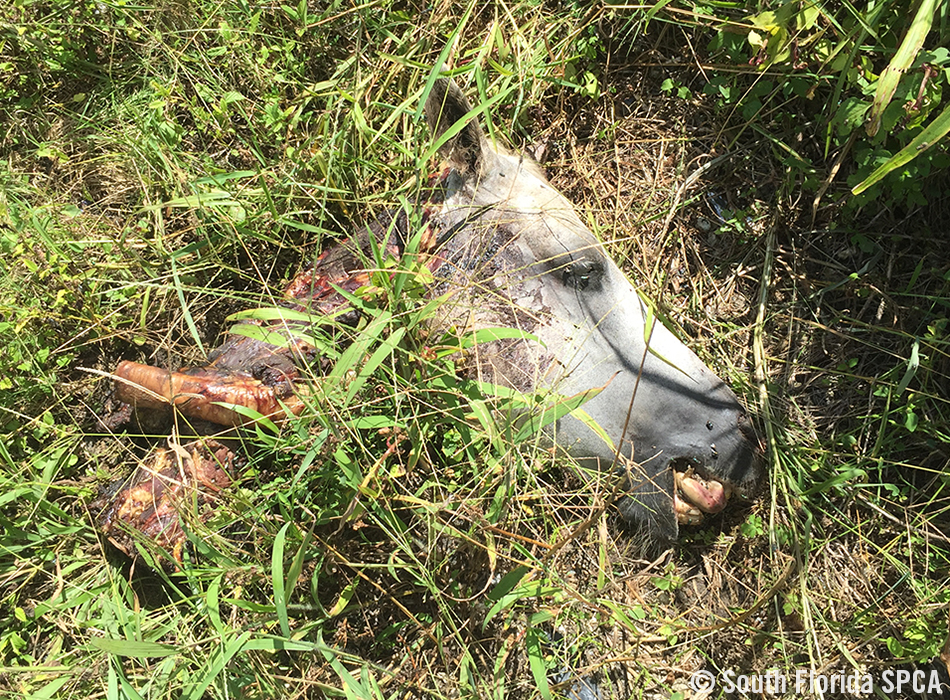 Dio Benitez, SFSPCA Ranch Manager, said, "The horse was an older grey Paso Fino, a popular breed in South Florida. I couldn't tell if it was male or female, only the head, skeleton and some intestines were left. Even its hide was gone."
"It's happening all too often here in Miami-Dade County," said Kathleen Monahan, president of SFSPCA. "There is a demand for horse meat for human consumption among those who believe it has medicinal and/or magical qualities. Unfortunately, this meat is toxic due to the vaccinations and regular medications that horses are given here, many known to cause cancer in humans," explained Monahan.
SFSPCA urges South Florida horse owners to be extra vigilant when it comes to keeping their animals safe, and warns the public to not consume any horse meat due to its health hazards.
If anyone has any information about this crime, please call South Florida SPCA at 305-825-8826, or MDPD's Agricultural Unit at 786-218-8344.
[social_button button="facebook" furl="http://bit.ly/2arYosL" fsend="on" flayout="button_count" fshow_faces="on" fwidth="450″ faction="like" fcolorsheme="light"]
[social_button button="twitter" turl="http://bit.ly/2arYosL" tsend="on" tlayout="horiz"]
PRESS & MEDIA CONTACT:
Kathleen Monahan
President, South Florida SPCA
786-351-2632, kathleenm@helpthehorses.org
---
The South Florida Society for the Prevention of Cruelty to Animals is a private, non-profit 501(c)(3) organization located in Miami, Florida. Founded in 1992, it is dedicated to the rescue, rehabilitation and adoption of abused, neglected and abandoned horses and other large livestock animals. The organization also educates the community about responsible animal care, animal ownership and promotes the welfare of animals through local and national advocacy. South Florida SPCA works in partnership with Miami-Dade County Agricultural Police and receives partial funding from Miami-Dade Animal Services (MDAS). For more information, visit www.helpthehorses.org.