FOR IMMEDIATE RELEASE:
(HIALEAH GARDENS, FL – SEPT 27, 2017) The decaying remains of three horses have been found this afternoon at NW 178th Street and NW 136 Avenue in Hialeah Gardens. Laurie Waggoner, South Florida SPCA director of rescue operations, says the horses were slaughtered for their meat for human consumption based on the condition of the carcasses. Waggoner is on the scene investigating.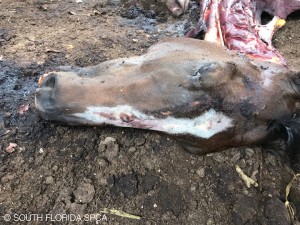 One horse appears to be a Thoroughbred, with its upper lip cut out where there would have been an identifying tattoo. The sex of the horses cannot be determined. One is bay in coloring with no white facial markings, the other a Palomino. All appear to have been brutally butchered at the scene.
"This is tragically common in South Florida," said SFSPC president Kathleen Monahan. "As an organization dedicated to the health, welfare and safety of horses, we will continue to everything we can to educate the public and work with law enforcement to put an end to this hideous practice."
SFSPCA warns of the dangers of consuming horse meat. "The meat is toxic due to the vaccinations and medications domesticated horses are regularly given, and should never be consumed by humans, or animals." (More information regarding toxicity of horse meat can be found at http://www.humanesociety.org/assets/pdfs/horse/toxicity-of-horse.pdf.)
SFSPCA urges South Florida horse owners to be extra vigilant when it comes to keeping their animals safe. If anyone has any information about these crimes, please call MDPD's Agricultural Unit at 786-218-8344, or Crime Stoppers at 305 471-8477 or 1 866-471-Tips to remain anonymous.
LINKS TO PHOTOS – WARNING: EXTREMELY GRAPHIC
SFSPCA_IMG_1812
SFSPCA_IMG_1813
SFSPCA_IMG_1814
SFSPCA_IMG_1815
SFSPCA_IMG_1817
SFSPCA_IMG_1818
SFSPCA_IMG_1820
MEDIA CONTACTS:
Laurie Waggoner, Director of Rescue Operations
786-218-4828, laurie@helpthehorses.org
Kathleen Monahan, President
786-351-2632, kathleenm@helpthehorses.org
---
ABOUT SOUTH FLORIDA SPCA
South Florida Society for the Prevention of Cruelty to Animals is a private, non-profit 501(c)(3) organization located in Miami, Florida. Founded in 1992, it is dedicated to the rescue, rehabilitation and adoption of abused, neglected and abandoned horses and other livestock. The organization also educates the community about responsible equine care and ownership, and promotes the welfare of equines through local and national advocacy. South Florida SPCA works in partnership with local law enforcement, and receives partial funding from Miami-Dade Animal Services (MDAS). For more information about South Florida SPCA, visit http://www.helpthehorses.org.