Wellington, FL (September 22, 2014) Equine welfare advocates and experts from several countries met September 19-21 at the Fourth Annual International Equine Conference (IEC) at the estate of Victoria McCullough in Wellington. Organized by the Equine Welfare Alliance and Wild Horse Freedom Federation, the event connected and enlightened a wide spectrum of pro-horse attendees that included equine welfare organizations, professional experts, concerned citizens, authors, rescue groups and corporate representatives.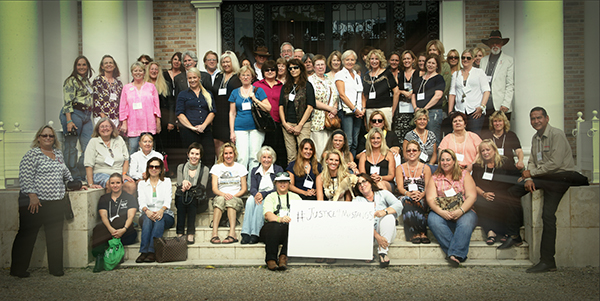 Above: Attendees of the IEC. Photo by Terry Fitch of Wild Horse Freedom Federation.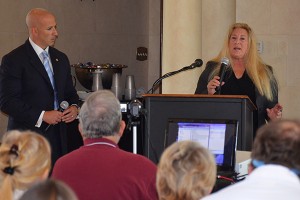 The issue of horse slaughter, and the transport of U.S. equines to Canada and Mexico for slaughter was high on the conference agenda. The first IEC grew out of alarm caused in 2011 when a ban on funding for horse slaughter inspections was dropped from the Agriculture budget, leaving the way open for horse slaughter to return to the U.S. The last U.S. horse slaughter plants were closed in 2007 under state laws and kept from moving to other states by the inspections ban. Since 2011, the concerted effort of the welfare advocates, and especially Victoria McCullough herself, has resulted in the restoration of the ban. (Pictured: State Senator Joseph Abruzzo and Victoria McCullough present the conference keynote address.)
"We dodged a bullet in keeping the plants from coming back," explained EWA's Vice President Vicki Tobin, "but over a hundred thousand of our horses are still going over the border to slaughter in Canada and Mexico."
A preview of the documentary film Kill Pen: A Story of Lies, Money and Meat was shared by author/filmmaker Sharon Boeckle, and an update on horse slaughter in Canada and the dangers of hormone replacement therapy derived from pregnant mare urine was presented by representatives from the Canadian Horse Defence Coalition.
"The issue of horse slaughter is very personal to us at South Florida SPCA because we deal with it on an ongoing basis in Miami-Dade County," said Laurie Waggoner, SF SPCA founder and director of ranch operations.  "We will do everything possible to support the efforts of Victoria McCullough as partners in the fight against all horse slaughter."
Other presentations were heard on wild horse, donkey and burro endangerment and extinction, equine nutrition, Thoroughbred racehorse aftercare, the public health dangers of consuming horse meat, PZP immunocontraception, effective advocacy messaging and more. (See the list of IEC presenters and the agenda.)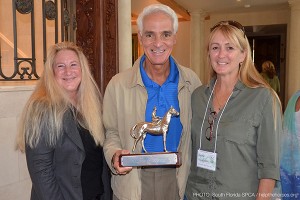 McCullough, along with Florida State Senator Joseph Abruzzo, welcomed former Florida governor and 2014 gubernatorial candidate Charlie Crist, who pledged his continued support for equine welfare in the state. McCullough thanked Crist for signing into law the Ivonne Rodriguez and Victoria McCullough Horse Protection Act of 2010, and acknowledged Laurie Waggoner, founder of South Florida Society for the Prevention of Cruelty to Animals, for her and her organization's instrumental role in the creation of the act. (Pictured L to R: Victoria McCullough, Governor Charlie Crist and Laurie Waggoner.)
Congressmen Ted Deutch and Patrick Murphy as well as Palm Beach State Attorney Dave Aronberg and Wellington Mayor Bob Margolis also addressed the group.
"It was an honor to attend this conference and to connect with such a great group of people who genuinely care about the welfare of horses, and to learn about what others are doing on their behalf," said Waggoner. "It was definitely an educational and eye-opening experience."