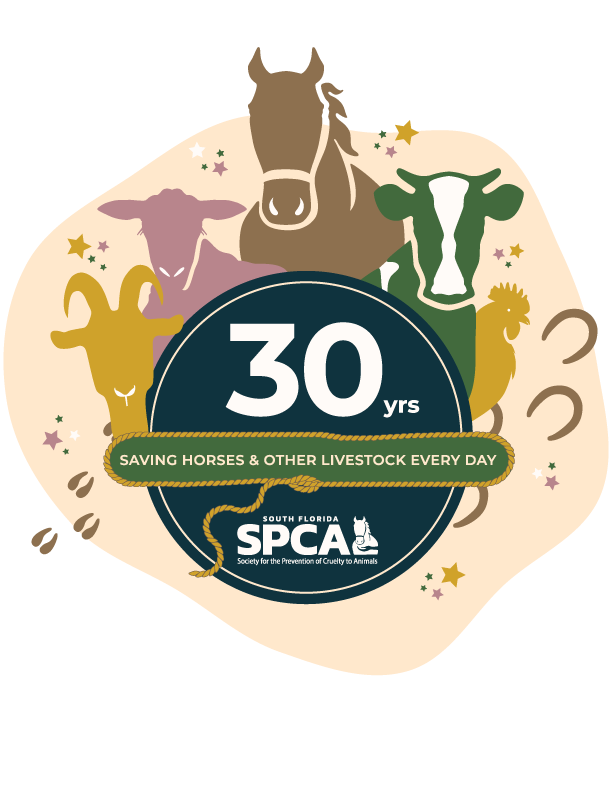 30th Anniversary Open House
March 26th, 2022 the South Florida SPCA hosted our 30th Year Celebration Open House.
Due to the pandemic we have been unable to host our Annual Open House for two years. How fitting that we were able to host again in time for celebrating our 30th Year of Rescue!
The 30th year South Florida SPCA Open House was a real community celebration, with the Boy Scouts, Miami-Dade County Department of Animal Services, food trucks and Dougie, from Sun-Country FM Radio joining us for the day! We had a lot of great raffle items, a children's section with games and face painters, and over 100 pounds of carrots to feed the horses!
It was a wonderful event! Everyone enjoyed themselves and their day at the Rescue Ranch.
We look forward to seeing everyone again next year!
IMPORTANT: In accordance with Chapter 496.411, Florida Statutes, the Solicitations of Contributions Act, the following information is provided: Charity Name/Location: South Florida SPCA Society For The Prevention Of Cruelty to Animals, Inc./Homestead, FL; Florida Charity Registration #: CH9651. EIN: 65-0338657.
A COPY OF THE OFFICIAL REGISTRATION AND FINANCIAL INFORMATION MAY BE OBTAINED FROM THE DIVISION OF CONSUMER SERVICES BY CALLING TOLL-FREE 1-800-435-7352 WITHIN THE STATE OR OUTSIDE FLORIDA AT 850-410-3800. REGISTRATION DOES NOT IMPLY ENDORSEMENT, APPROVAL, OR RECOMMENDATION BY THE STATE.  Also see: www.FloridaConsumerHelp.com.