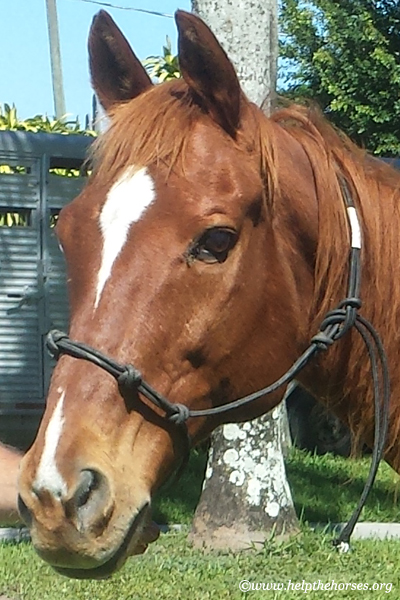 MIAMI, FL (February 17, 2014)  Defense Team, a Thoroughbred gelding, was rescued today by South Florida SPCA. Laurie Waggoner, SFSPCA director of ranch operations, received  a mid-morning call from a Hialeah farmer who reported the former racehorse wandering along a road near one of his pastures, and that he looked "really bad…really skinny." Waggoner and members of the Hialeah police department found the horse ambling roadside, eating grass.
"His body condition score is a 1," said Waggoner, referring to the lowest score on the Henneke System of Body Condition Scoring (view chart.) Fortunately, Defense Team does not appear to be lame or have any other major issues or injuries. He will receive routine vaccinations and a Coggins test, along with farrier attention to his hooves which appear to have been neglected for some time.
The horse's tattoo number matched that of Defense Team, and SFSPCA learned he was foaled in Florida on April 6, 1999. He was purchased in Ocala, FL for $6,000, and raced only once at Calder on December 28, 2001 where he finished 11 out of a field of 12. (View pedigree.)

Waggoner noted Defense Team seemed very happy to be found, loaded easily on her trailer and was welcomed to the SFSPCA ranch in Homestead with a nice, safe stall and a tasty flake of hay.
If you'd like to donate toward the care of Defense Team, please visit www.spca-sofla.org/donate/donate-now and indicate that it is for Defense Team at checkout.