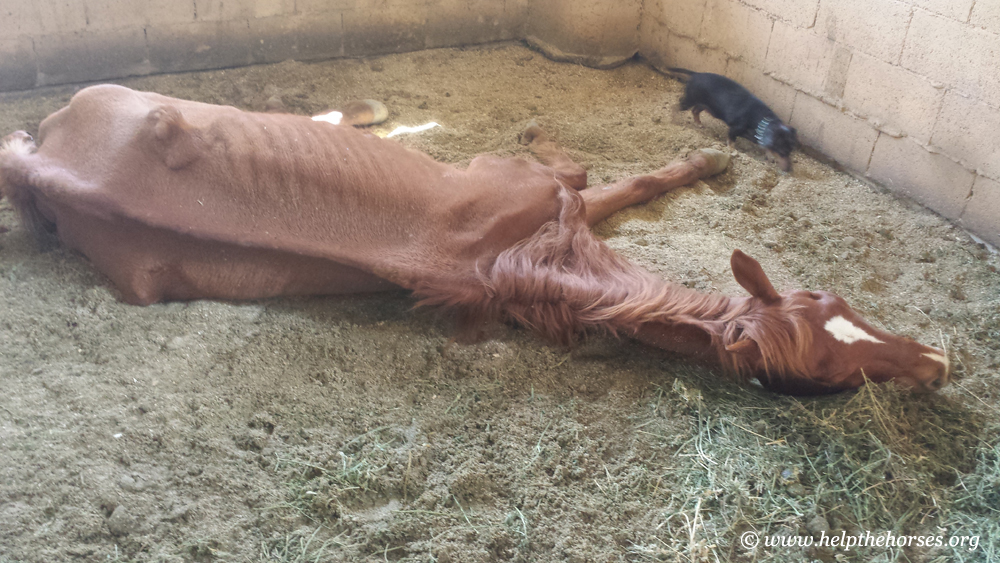 MIAMI, FL  (February 19, 2014)  Abandoned along a Hialeah roadside and left to fend for himself, 15 year-old off-the-track Thoroughbred Defense Team is now fighting for his life at the South Florida SPCA rescue ranch in Homestead. The chestnut gelding was rescued on Monday, February 17 and brought to safety by Laurie Waggoner, SFSPCA director of ranch operations.
"He's down to skin and bone, so even though the weather isn't chilly here, we've got a blanket on him to preserve his body heat," said Waggoner. "He has absolutely no fat on him."
But more worrisome is Defense Team's inability to rise from standing without assistance – once he's been down for awhile, it takes a crew to get him up. Today, he spent most of his time in one of the ranch's front paddocks or open yard instead of being kept in a stall just in case he fell, to protect him from injury.
Waggoner remarked, "He has a strong will, and is eating. We are feeding him smaller portions three times a day, being careful to not shock his system. I will be asking Dr. Franklin to do some blood work on him tomorrow, and we'll know more about his overall health then."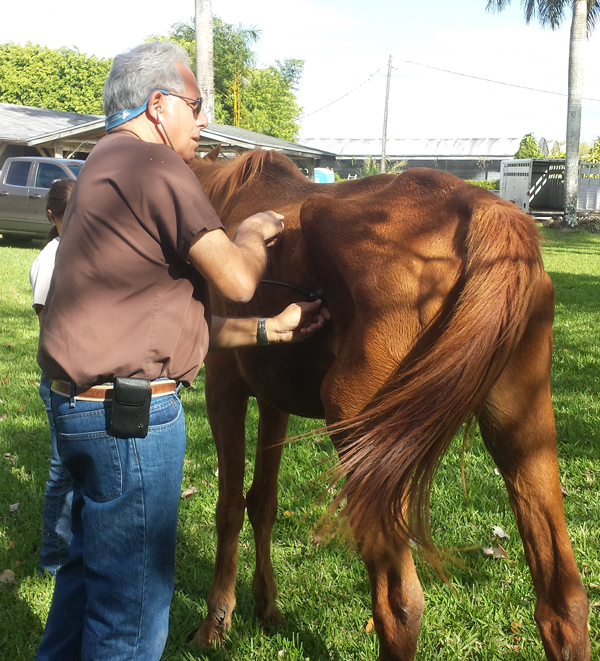 Defense Team is under the care of Dr. Zachary Franklin of Templeton and Franklin Veterinary Associates, and is receiving constant attention from ranch staff and volunteers. Connie Cioffi, former SFSPCA board member, was moved to come visit him today, and spent time grooming him.
At this time, ownership of the horse remains a mystery. Once Thoroughbreds leave the track and pass through different owners without being recorded, ownership and responsibility is very hard to determine.
If you would like to help with Defense Team's veterinary and care costs, please visit our donations page:
[button type="simple_button_link" url="https://spca-sofla.org/donate/donate-now/" target="" button_color_fon="#90a592″ ]DONATE NOW[/button]