South Florida SPCA is primarily a horse rescue organization, but occasionally we are called to rescue other farm animals such as goats, sheep, cows, and pigs. We've even taken in emus!
Wednesday, June 8, 2016 was Piggy's lucky day. The male pot bellied pig was found at Amelia Earhart Park, where someone had abandoned him. After Miami-Dade Ag Patrol completed the property receipt giving us custody, we brought him to our ranch where he quickly made friends with the staff, volunteers, and some of our other animals including Spooky, one of Laurie's dachshunds. Sometimes he got a little too friendly, thus earning him the nickname "Humphrey."
Piggy, as it turned out, was an intact male with the complication of one undescended testicle, also known as a "cryptorchid." When SFSPCA rescues any male animal capable of reproducing it is policy to neuter them, and this would require in-hospital surgery. On June 28 Humphrey was chauffeured in style to the veterinarian for the procedure. After it was done, he came back to the ranch and recovered.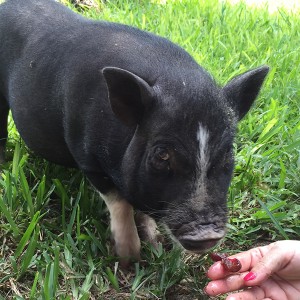 While he would love to spend his days being hand-fed grapes at SFSPCA, Piggy needs to go to an adoptive home where others can enjoy him as a pet.
If you think you're a good match for Piggy, aka Humphrey, please contact Laurie Waggoner at laurie@helpthehorses.org or 305-825-8826.
Learn more about pot bellied pigs by clicking on the links below:
potbellypigs.com
exoticpets.about.com
pigs4ever.com
pigharmony.com
[button type="simple_button_link" url="https://spca-sofla.org/donate/donate-now/" target="" button_color_fon="#90a592″ ]MAKE A DONATION[/button]
[social_button button="facebook" furl="https://spca-sofla.org/humphrey-piggy-looking-for-love/" fsend="on" flayout="button_count" fshow_faces="on" fwidth="450″ faction="like" fcolorsheme="light"]
[social_button button="twitter" turl="https://spca-sofla.org/humphrey-piggy-looking-for-love/" tsend="on" tlayout="horiz"]