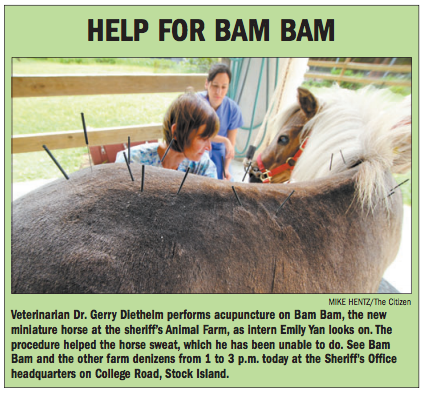 The mini-but-mighty cute Bam Bam, rescued by South Florida SPCA and now living at Monroe County Sheriff's Animal Farm in Key West, recently received acupuncture treatments to help with his inability to sweat and other health issues. The condition, called "Anhidrosis," was treated by Dr. Geraldine Diethelm and intern Dr. Emily of the Marathon Veterinary Hospital. They also addressed his lameness in his left front leg due to arthritis.
Bam Bam was rescued by the South Florida SPCA after finding him and five other horses abandoned along a canal in Homestead in July. The 18 year-old gelding, standing only 32 inches tall, is also blind in one eye. A kiddie pool, a fan and being hosed off frequently (and lots of food!) have been key to his happiness thus far. Since "retiring" to the Keys a few weeks ago, Bam Bam has been featured on the front page of The Citizen twice!
Word is Bam Bam responded well to the treatments, and even started sweating in some areas. More acupuncture is planned for him as part of his ongoing care. Our sincere gratitude to the Monroe Sheriff's Office for taking in Bam Bam, and several other of our rescues!
Please visit the Monroe County Sheriff's Animal Farm Facebook album to see more photos of Bam Bam's acupuncture session.