MIAMI, FL (July 22, 2015) – In a case considered one of the worst cruelty situations South Florida Society for the Prevention of Cruelty to Animals (SFSPCA) has encountered in 23 years that made national and international headlines, a jury found defendant Jesus Bandera-Salgado not guilty of three counts of cruelty to animals yesterday.
The not-guilty decision appears to be based on lack of evidence to corroborate the charges, even after the six-member jury heard testimony from Laurie Waggoner, SFSPCA director of ranch operations and cruelty investigator, Miami Gardens police officers, and veterinarian Dr. Zachary Franklin of Templeton and Franklin Veterinary Associates.
"We are shocked and extremely disappointed with this verdict," said Laurie Waggoner.
Andrew Winningham
A co-defendant, property caretaker Andrew Winningham, was arrested and charged with one felony count of animal cruelty, and two misdemeanor counts of animal confinement on July 11, 2013. Winningham was adjudicated on one count of animal confinement and was put on probation for six months, and fined $458.
Susie, a four year-old Paint mare, and Justice, a 10 year-old Paint gelding, were found starved and dehydrated in a nailed-shut ramshackle stall at a boarding facility in Miami Gardens on Sunday, July 7, 2013. Miami Gardens police officers and Waggoner had to tear down a portion of the stable to reach the horses.
According to Waggoner, "The horses were found without sufficient food or water, and were extremely emaciated." Worse, they may have possibly resorted to eating wood and even their own manure (feces) in order to survive.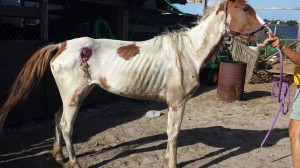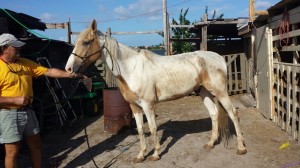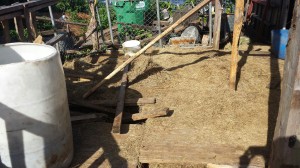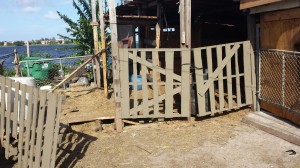 Once rescued, Susie and Justice were immediately taken to the SFSPCA's ranch in Homestead where they received around-the-clock care. While Justice improved quickly, it was touch-and-go with Susie as she battled colic and gastric ulcers. Dr. Franklin described Susie as "severely abused and emaciated." He said, "They don't get much worse than she was and still be alive."
After months of rehabilitation, the horses were fostered by a SFSPCA-approved individual while awaiting the outcome of yesterday's trial.
Upon the not-guilty verdict yesterday, Bandera-Salgado signed over custody of Susie and Justice to SFSPCA. The upshot is that the horses' long-time foster can now legally adopt them and continue to give them the proper care and respect they so richly deserve.
CONTACT:
Laurie Waggoner, SFSPCA – 786-218-4828
PREVIOUS NEWS COVERAGE:
2 horses found inside stable without food, water
Starving horse suffers from colic
4-year-old mare, 10-year-old gelding rescued by South Florida Society for the Prevention of Cruelty to Animals
More at PRESS & NEWS
RELATED POSTS:
HORRIFIC ANIMAL ABUSE IN MIAMI – TWO HORSES NAILED INSIDE STABLE AND LEFT TO DIE
BREAKING NEWS – UPDATE ON HORSES NAILED INSIDE STABLE – SUSIE HAS "STABILIZED" DURING THE NIGHT
OVERWHELMED BY GENEROSITY – Donations from all over the world pour in to help save Susie & Justice
BREAKING NEWS: MORE HORSES BEING SIEZED FROM MIAMI GARDENS HORROR RANCH
PAINT UPDATE: Susie and Justice Thriving after Rescue
Susie Shines & Justice Prevails at SFSPCA Rescue Ranch